by Elias Marat
November 04, 2019
from TheMindUnleashed Website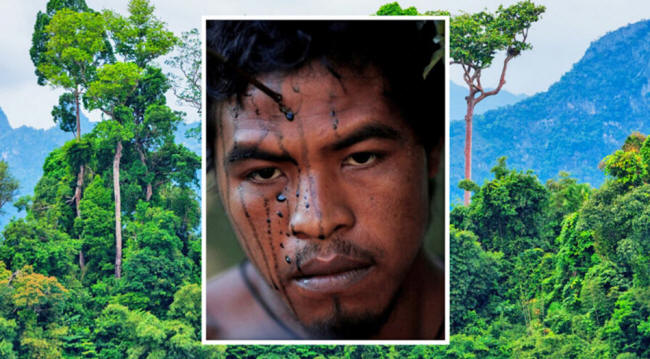 "The Bolsonaro government
has Indigenous blood on its hands.
The increase in violence in Indigenous territories
is a direct result of his hateful speeches"...
A young indigenous leader was murdered on Friday in the Amazon rainforest in an ambush by illegal loggers that also wounded another member of the Guajajara people in Northern Brazil.

Paulo Paulino Guajajara, 26, was shot in the head during the ambush in the Araribóia Indigenous Reserve, which has come under grave threats from illegal loggers and miners who are trying to steal and exploit indigenous land.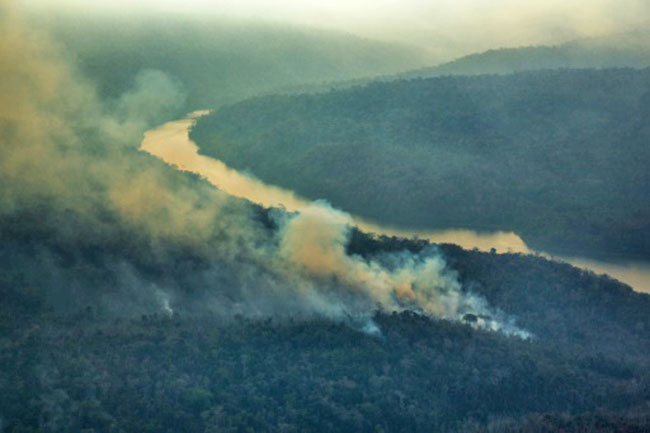 A Greenpeace photo taken October 24, 2015
shows forest fires in the Arariboia indigenous lands in Brazil,
"one of the biggest forest fires ever registered" within
such a territory, home to 12,000 of the Guajajara people
Paulo was a prominent land defender and member of the Guardians of the Forest indigenous land defense group.

Fellow Guardian and indigenous leader Laércio Guajajara was hit by two shots that grazed his back and arm during the ambush but he was able to escape, reports Mongabay.

Brazilian pan-indigenous organization APIB, a group representing about 900,000 indigenous people throughout the country, squarely laid the blame on the administration of far-right President Jair Bolsonaro.
In a statement quoted by Reuters news agency, APIB said:
"The Bolsonaro government has Indigenous blood on its hands.

The increase in violence in Indigenous territories is a direct result of his hateful speeches and steps taken against our people."
Federal law enforcement bodies are investigating the case, which also allegedly resulted in a logger being killed, but Paulo's body still remains missing.

The case will also be investigated by a special technical advisor and a retired Federal Police officer, according to a statement announced by federal indigenous agency FUNAI.
In a tweet, Minister of Justice Sergio Moro pledged,
"to bring those responsible for this serious crime to justice."
https://twitter.com/Reuters/status/1191022220878831618
APIB leader Sonia Guajajara blasted the Bolsonaro government's dismantling of environmental and indigenous agencies, which leaves Brazil's indigenous nations - many of whom have lacked deeds to their ancestral land since the founding of the country - defenseless when faced with illegal land grabbers.
In a Twitter post, Sonia said:
"It's time to say enough of this institutionalized genocide."
Bolsonaro and his officials regularly blame environmental laws, activist groups, non-governmental organizations, and indigenous peoples for allegedly hindering Brazil's economic potential.
Following his inauguration last year, the far-right president vowed to reverse protections that ensure that 15 percent of Brazil's territory is reserved for indigenous tribes.

At the time, Bolsonaro tweeted:
"Let's integrate these citizens and bring value to all Brazilians."
While Bolsonaro has yet to implement his most incendiary threats against indigenous peoples, his rabidly racist language has encouraged illegal encroachments on indigenous lands.

The Guajajara indigenous group, one of the country's largest that numbers about 20,000 people, established the Guardians in 2012 in order to patrol their huge reservation and expel illegal loggers from the reserve.
The tiny Awá Guajá indigenous group also lives deep in the forest, and has not made any contact with the outside world.

Speaking to Democracy Now, Amazon Watch program director Christian Poirier explained:
"[The Guajajara are] doing this on behalf of all of humanity, because they are protecting the critically important Amazon forests that sustain our climate, protect our climate, power or, I should say, fuel the rainfall all over Brazil, but also here in this country. In the state of California, rainfall is slackening due to the fact the Amazon is being decimated today.

And the Guardians of the Forest are doing this work, therefore, on behalf of all of us, but without the support that they deserve.

Their rights are enshrined in Brazil's Constitution - their rights to territory and to their way of life … Yet they have been systematically deprived of these rights.

And what we witnessed today - or, two days ago, with the murder of Paulino, was an example of that, a manifestation of the violence that's growing in these communities."
https://twitter.com/Sarah2theSax/status/1190623532537012229
In September, Paulino Guajajara - who leaves behind one son - spoke to Reuters about the dangers inherent in guarding the rainforest from the predatory forces that seek to exploit indigenous land.
As he and others prepared to move toward a logging camp at the time, Paulino had said:
"We are protecting our land and the life on it - the animals, the birds, even the tribe who are here, too.

There is so much destruction of nature happening, including trees with wood as hard as steel being cut down and taken away. I'm scared sometimes, but we have to lift up our heads and act. We are here fighting.

We have to preserve this life for our children's future."