The US Centers for Disease Control and Prevention's (CDC) own figures reveal the shocking and disturbing fact that the prevalence of autism more than doubled between 2000 and 2010.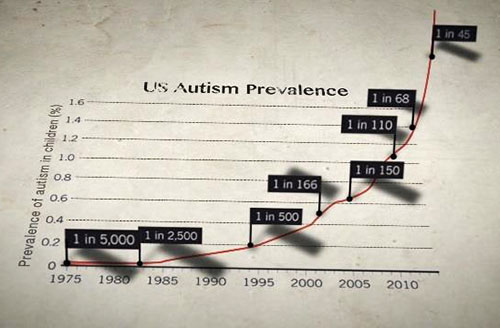 According to Doreen Granpeesheh PhD, founder of the Centre for Autism and Related Disorders, 1 in 15,000 children developed autism in 1978, but the risk is currently sitting on average at 1 in every 25 children.
Researcher Stephanie Seneff PhD from MIT says if things continue this way,
"we can predict that by 2032, 80% of the boys born will end up on the autism spectrum. Half the children, 80% of the boys. This is going to be a complete catastrophe if we just let it happen".
Contemplating the possible role of vaccines in triggering this epidemic of autism is now widely regarded as stuff of conspiracies initiated by doctors who have been struck off the medical register - or taboo.
However, in 2014, Brian Hooker PhD, father of an autistic child, took a fresh look at CDC data, and discovered that they had hidden a 340% increase in autism among African-American kids given the vaccine before 36 months.
CDC whistleblower/senior scientist Dr William Thompson came forward to confirm a scandalous CDC cover-up - a matter that has subsequently been raised in Congress by REP Bill Posey, but that has remained fairly low profile, despite the Congressman's call for an investigation.
"VAXXED - From Cover-up to Catastrophe" to premiere in New York
A powerful new film addressing these serious but controversial issues is to be released at the Tribeca Film Festival World Premier in New York on the 24th April 2016: "VAXXED - From Cover-up to Catastrophe" is directed by Dr Andrew Wakefield,
"the British gastroenterologist falsely accused of starting the anti-vax movement when he first reported in 1998 that the MMR vaccine may cause autism".
The documentary examines,
"the evidence behind an appalling cover-up committed by the government agency charged with protecting the health of American citizens".
It features,
"Interviews with pharmaceutical insiders, doctors, politicians, and parents of vaccine-injured children reveal an alarming deception that has contributed to the skyrocketing increase of autism and potentially the most catastrophic epidemic of our lifetime".