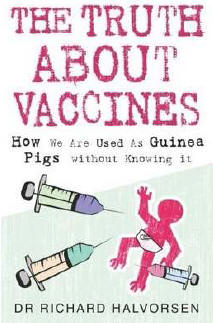 Vaccines
"The March 1999 'Vaccines' feature in Parenting magazine provided all propaganda one would expect from a subsidiary of Time, Inc. TimeWarner, Inc., the parent company, is a corporate member of the Council on Foreign Relations (CFR). Time's president, Richard D. Parsons, and the Editor in Chief of TIME, Norman Pearlstine, are longstanding CFR members.

One CFR published policy objective is substantial worldwide depopulation including half of the current U.S. population being targeted. This population reduction program is largely funded by the Rockefeller Foundation and the Merck Fund, both financially and administratively linked to the Merck pharmaceutical company the world's leading vaccine manufacturer."

Dr. Leo Horowitz, "Parenting with Deadly Timely Propaganda"
The FDA's VAERS (Vaccine Adverse Effects Reporting System) receives around 1012,000 reports of serious vaccination reactions annually, with about 1% fatal.
However, the NVIC (National Vaccine Information Center) investigation on VAERS reports that based on a New York study, 97.5% of vaccine related deaths and disabilities are not reported to/by the FDA. So the number of annual American fatalities is likely closer to 1000 and disabilities closer to 100,000.
On top of this, the catchall diagnosis SIDS (Sudden Infant Death Syndrome), killing up to 10,000 babies a year, has been shown to "coincidentally" occur shortly after immunizations/vaccinations.
"Then there are vaccines. Everything from cancer viruses to DNA fragments and mercury has been found in vaccines. The entire vaccine supply is contaminated. And what is the government doing? Mandating more and more injections of our children. The Chicago Tribune reported in 2001 that 60 top scientists met in Chicago to present overwhelming evidence that cancer viruses found in monkeys are in many of the vaccines.

A recent poll in the United Kingdom showed that over 80% of the population opposes the mandatory injection of the measles, mumps and rubella (mmr) vaccine. A news anchor has gone public with the fact that this vaccine has brain damaged his child. Autism is up over 2000 percent and is rising in the industrial world proportionately with the increase of mandated vaccinations."

Alex Jones, "9-11 - Descent Into Tyranny"
The long term adverse effects of vaccines have been documented and include chronic immunological and neurological disorders like ADD, ADHD, dyslexia, autism, allergies, and cancer.
"A German study found correlations between vaccinations and 22 neurological conditions including attention deficit and epilepsy. The dilemma is that viral elements in vaccines may persist and mutate in the human body for years, with unknown consequences.

Millions of children are partaking in an enormous, crude experiment; and no sincere, organized effort is being made by the medical community to track the negative side effects or to determine the long term consequences … However, individual doctors may not be wholly to blame.

As medical students, few have reason to question the information taught (which does not address the information presented in this report). Ironically, medicine is a field which demands conformity; there is little tolerance for opinions opposing the status quo.

Doctors cannot warn you about what they themselves do not know, and with little time for further education once they begin practice, they are, in a sense, held captive by a system which discourages them from acquiring information independently and forming their own opinions.

Those few that dare to question the status quo are frequently ostracized, and in any case, they are still legally bound to adhere to the system's legal mandates."

Alan Philips, "Dispelling Vaccination Myths"
In the December 1994 Medical Post, Dr. Guylaine Lanctot, author of the bestseller "Medical Mafia," said,
"The medical authorities keep lying. Vaccination has been a disaster on the immune system. It actually causes a lot of illnesses. We are actually changing our genetic code through vaccination ...10 years from now we will know that the biggest crime against humanity was vaccines."
After her independent study of the medical literature on vaccination, Dr. Viera Scheibner concluded,
"there is no evidence whatsoever of the ability of vaccines to prevent any diseases. To the contrary, there is a great wealth of evidence that they cause serious side effects."
For decades, more than half of all childhood "immunizations," about 12 of the 18 average vaccination doses, have contained the chemical preservative Thimerosal which is made from mercury, the second most toxic metal known to man (Uranium is first). That's about 200 micrograms of mercury before the age of two, 3040 times the amount of safe levels in adults.
Another preservative found in most all vaccines is formaldehyde which is incredibly poisonous with no acceptable safe amounts in the human body.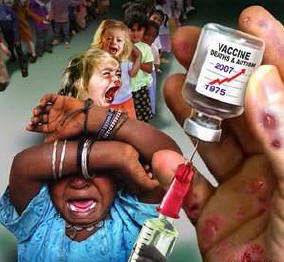 Dr. Boyd Haley, Chairman of the Chemistry Department at the University of Kentucky, one of the nation's leading experts on mercury poisoning said,
"Thimerosal is one of the most toxic compounds I know of. I can't think of anything that I know of is more lethal."
Before the 1990s only 1 in every 10,000 children was diagnosed with autism.
Nowadays over 1 in every 150 children born in America comes down with autism, and each time it's those children who have been "immunized" who begin having seizures or start mentally going downhill right after vaccinations. The Amish, numbering around 200,000 who religiously oppose vaccinations, have never had a case of autism. Based on sheer statistics, they should have well over 100 autistic among their numbers right now, but they do not.
They are mixed right into the Pennsylvania population with a rapidly increasing ratio of autistic kids, yet remain unaffected.
"Indeed, it was contaminated live viral vaccines that spread this disease [AIDS] and likely others, including chronic fatigue, certain leukemias, and possibly Gulf War Syndrome as well, to vast populations. In fact, today's live viral vaccines, including the oral polio vaccine required by law be given to our children, are still littered with simian (monkey) virus contaminants since they are developed in monkey kidney cells, and the U.S. Food and Drug Administration turns a blind eye to as many as 100 live monkey virus contaminants per vaccine dose, and is barred from telling health professionals and even health scientists this truth because of pharmaceutical industry dictated proprietary laws and nondisclosure agreements."

Dr. Len Horowitz in a speech before the Citizens Against Legal Loopholes Rally, The Capitol Mall, 1996
The Thimerosal and Formaldehyde are causing "autism" in children, "Alzheimer's" in the elderly, and a wide range of other new neurological diseases.
Vaccines continue being used in the third world, mostly Africa and Asia to sterilize women without their knowledge, as well as spread a plethora of manmade plagues and health problems throughout the populations.

Back to Killer Vaccines - Vacunas Que Matan