November 08, 2021
from RT Website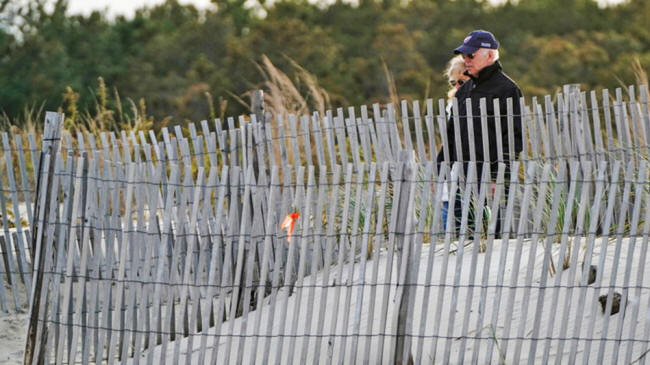 U.S. President Joe Biden
and First Lady Jill Biden
walk on the beach in Rehoboth Beach,
Delaware, U.S., November 7, 2021.
© REUTERS/Joshua Roberts



US President Joe Biden's approval rating has fallen to under 38% according to a new USA Today poll, which also reveals the majority of Americans polled don't want him to run for president again.

A USA Today and Suffolk University poll of 1,000 registered US voters last week found that just 37.8% of voters approve of "the job Biden has done as president," with 59% disagreeing that the president has done a good job.

Even fewer Americans approve of Vice President Kamala Harris.
Only 27.8% of those polled believe Harris has done a good job, with a sizeable 21% undecided, according to the poll which was released on released on Sunday.

Among independent voters, 44% said Biden has done worse as president than they expected, and a whopping 64% of Americans - including 28% of Democrats - said they do not want Biden to run for president again.
The poll shows that Americans are even more opposed to Biden running for president again than they are regarding former President Donald Trump:
58% of voters, including 24% of Republicans, oppose Trump running for another term.
Those polled said they were more likely to vote for a Republican congressional candidate than Democrat if elections were held today (46% to 38%).

The results of the poll are another major blow to the Democratic Party after heavy election losses this past week, which included Republican Virginia gubernatorial candidate Glenn Youngkin defeating Democrat Terry McAuliffe to replace Democrat Ralph Northam as governor.

The poll was conducted before House Democrats passed a $1 trillion bipartisan infrastructure bill on Friday with the help of 13 Republican lawmakers.
Biden previously tied the bill's signing to the passage of his 'Build Back Better' social spending package, which Democrats hope to pass through a special Senate procedure without Republican votes.
While the majority of those surveyed (61%) backed the infrastructure bill, the poll found that the public is split on the 'Build Back Better' plan; 44% oppose it, while 47% expressed support.
About 30% of respondents believe it would have a detrimental effect on their families, while 26% think they would benefit from its provisions.



Why Democrats got Stuck with Kamala Harris
by Robert Bridge
November 12, 2021
from RT Website
Robert Bridge is an American writer and journalist. He is the author of 'Midnight in the American Empire,' How Corporations and Their Political Servants are Destroying the American Dream. @Robert_Bridge

Kamala Harris.
© AFP / NOAH BERGER

With Joe Biden in conspicuous decline, the need for a qualified vice president waiting in the wings is critical.
Yet Kamala Harris is totally unfit for the presidency, a dilemma that puts the United States in an awful bind.

Less than a year in office, Vice President Kamala Harris, the highest-ranking female official in US history, has already shattered some political records, but none that would merit much celebration unless you happen to be a Republican.

This week, a survey taken by USA TODAY/Suffolk University showed that just 28% of Americans approved of Harris and whatever the heck she's doing in the White House.
Not only did Harris manage to underperform her doddering boss, Joe Biden, but she even bested Dick Cheney, one of the most loathsome creatures to have ever emerged from the fetid swamp.

To put this achievement into its proper perspective, Harris managed to fare worse in a popularity contest against the man who manipulated US intelligence to start the hugely unpopular 2003 invasion of Iraq.
Not done there, Cheney beefed up his evil portfolio through his connections to Halliburton, the company that the Bush administration contracted to rebuild Iraq's destroyed oil infrastructure, and where Cheney served as CEO from 1995 to 2000 (he said he donated any profits he made from his Halliburton stock to "charity").
And let's not even get started on the 'Darklord' and his role in waterboarding detainees abroad, and spying on Americans at home.

In other words, sidelining Dick Cheney as the most unpopular vice president was a herculean feat, yet Kamala Harris managed to pull it off with relative ease.
The question is, how...?

The short answer is that Kamala Harris has no business being anywhere near the White House, not to mention the hallowed Oval Office.
Not only does this woman shirk from the most obvious tasks, like paying a visit to the US-Mexico border at the peak of a migrant crisis (only after Donald Trump announced his own visit was she prompted to pack her bags), she lacks the necessary people skills to even sit down for a chat with children without looking more plastic than a Lego factory.
Yet, there she is, one Biden heartbeat or two away from one of the most powerful political offices in the world.

Harris conforms wonderfully with the dictates of these radical woke times, where politicians are judged less by their personal talents and accomplishments than by their identity; less by the size of their intellect than the color of their skin.
US politics, which once upon a time was built on the rock of personal merit, has been reduced to a box-ticking exercise that is increasingly willing to substitute raw political talent with pretenders.




That's not to say, of course, that just because a politician ticks all of the correct boxes that they are automatically inferior and unworthy of public office.
Tulsi Gabbard, for example, a Samoan-American Hindu from Hawaii, comes off as a highly qualified candidate with strong leadership skills. She is someone I would have enthusiastically endorsed had the media gatekeepers not disappeared her.
While Gabbard fulfilled all of the necessary diversity requirements, the former member of the US Army failed to tick the box for 'pro-war.'
That is a 'character flaw' that makes her prospects for attaining high office in the current political climate about as easy as ascending Mount Everest.

The Democrats were betting that Kamala Harris, the wrong woman of color at (probably) the right time, would appeal to the damaged sensitivities of the American people, traumatized as many were by the lurid murder of George Floyd (in May 2020) by a white police officer.
That tragedy, followed up with months of Black Lives Matter protests just before the Biden-Trump showdown, ingrained in the public mind the media-fueled narrative that not only the US, but its police forces, suffer from a malignancy known as 'systemic racism.'

Some may argue that Biden had made the right decision by choosing Harris as his running mate since the duo went on to defeat Donald Trump and Mike Pence in the 2020 presidential election.
Presently, however, it looks as though the Democratic Party has suffered a Pyrrhic victory with the Biden-Harris tag team, and one that may have set the party back light years.

The Democrats blatantly ignored a serious consideration when they paired Harris with Biden, and that was the former's conspicuous unpopularity.
Amid a large field of Democratic presidential candidates, Harris was forced to withdraw early from the race with a public approval rating below 4%.
Did the Democrats think that those harsh public sentiments would somehow magically disappear because Harris is a female who comes from a mixed racial background and US inner cities had been burning coast to coast?
Today, Harris appears to be no more popular among her colleagues, who have complained that they toil in an "abusive environment" and are "treated like s**t," than she was with Democratic voters just over a year ago.

The takeaway here is that the voting public, aside from a radicalized minority, are not really interested whether a candidate is black, brown, white or polka dot.
What they are mostly concerned about is whether the individual is qualified to represent their interests once they have been elected to office.

Had the Democrats used a scale based on merit as opposed to identity when choosing a running mate for old Joe Biden, they would be much more prepared to face the severe political challenges quickly approaching.
Instead, the Democratic Party is breaking under the pressure of a president and vice president who are beyond the help of their best handlers, while becoming actual liabilities.

Disaster is fast approaching for the Democrats and liberals who, just like their counterparts in the world of academia, have forsaken the necessity of merit and excellence for the self-limiting dead-end road known as identity politics.