by Nash Landesman
April 18, 2018
from ForeignPolicyJournal Website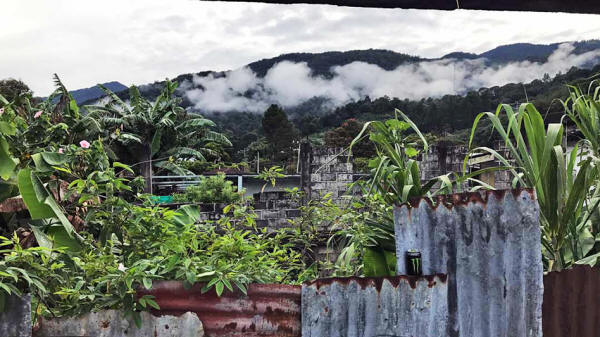 Peering into Central America's largest protected area,
from the "buffer zone" in Volcan Baru,
northwest Panama
(Photo courtesy of the author)

Typified by The Nature Conservancy and The World Wildlife Fund,

Global Conservation as such is really an arm of colonialist foreign policy

going back at least a century, and its fundamental aims

have not changed.


Cloaked under a veneer of idealism, 'protected area conservation' is a cynical and ubiquitous foreign policy charade, harming both the environment and its inhabitants throughout the world.
Indigenous residents are displaced either as a matter of policy by force or through ecosystem degradation, depending on the protected area category set by the International Union for the Conservation of Nature (IUCN), the Swiss-based body for conservation, founded in 1947 as a lesser-known leg in the postwar international system.

The IUCN evolved from its predecessor, The Society for the Preservation of the Wild Fauna of the Empire, networks of game reserves dating back to early 1900s Africa, during the postwar planning stages at the end of WWII.

Great Britain's Society for the Preservation of the Wild Fauna of the Empire, led by Lord Alfred Milner, would be formally enrolled, in name and title, into the ranks of the IUCN, as enshrined in the organization's original 1947 founding charter.
Under the leadership of Sir Julian Huxley and members of the British foreign office, including Rab Butler, undersecretary of state to India, the IUCN's emerging protected area system would become a growing component in managing "decolonization," partly by mitigating imperial rivalry in folding the colonial claims of various European powers into a single body, managed under the auspices of conservation.

Its mode of operation would be global policies resembling those of The Society's protected game reserves imposed on Africa at the turn of the 20th century.
(One way or another, those policies served to turn over most valuables from horns to hides, over to the Crown, under unique taxonomy and taxation system, worthy of a read in The Society's official journals, available online).

With people prohibited from entering protected areas, vast tracks of land are transferred to conservation groups which in turn enable select mining and extractive interests to harvest raw materials, all while blocking unwanted interlopers, including national governments, natives, and foreign industrial rivals through various means, such as civil society protest funded by USAID on the basis of selective environmental outrage.

Panama's valuable geostrategic position bridging the continents, along with its rich natural resource base, offers an instructive microcosm for conservation in action, especially now with a third of Panamanian territory under protected areas.

In Panama and elsewhere, population displacement is carried out with methodical deliberation at the behest of the World Bank's Global Environmental Facility, in tandem with the World Wildlife Fund, Conservation International, and the Nature Conservancy, all of whom declined to comment for this article.

In the Americas, these policies are used both for Indian removal and Monroe Doctrine defense buffering foreign rivals.
But its efficacy seems to be wearing thin lately, as nation-states, like Panama, try to re-assert control over zones defined by the IUCN as being "beyond sovereign jurisdiction."




The Fight Over Panama's Protected Areas

On the Avenida de Periodistas, at the Panama City offices of Centro de Incidencia Ambiental de Panamá (CIAM), one of the country's most respected environmental organization, a large map hangs from the wall dotted with colored tabs revealing where mineral concessions lie.
The map is nearly covered in tabs since gold, copper, and other metallic concessions are pending for nearly half of Panamanian territory, many of them overlapping with so-called protected areas, which account for just under 40 percent of Panama.
"The problem with mining in Panama has to do with the country's massive rainfall," says Luisa Arauz, a lawyer with CIAM who has been suing a Canadian mining firm operating in one of Panama's protected areas.
The Vancouver firm, Petaquilla, spun off its assets in 2014 to another mining company, First Quantum, "to avoid litigation," she says.
But the fallout still persists.
"The entire Atlantic coastline has been affected in terms of water supply from sedimentation caused by mining," she says.
Meanwhile, one of the world's largest gold and copper mines proceeds in an on-again, off-again fashion, on the basis of price fluctuations on the London metals exchange.
The original contract, known as "Ley Petaquilla" granted the company full discretionary use of the area's water supply, including its rivers, which now carry a toxic brown current flowing out to sea along the Coclé del Norte river.
Heavy rainfall causes the tailings ponds to overflow, sending metallic waste and acidic runoff down a path that empties into the Atlantic Ocean.
"The damage has gotten so bad you can see it from Google Earth," says CIAM's mining expert Isaias Ramos... and he's right.
An extension of the old Mosquito coast, a British protectorate, Panama's Atlantic-fronting Donoso-Colon region is categorized as one of the least sensitive types of IUCN protected areas - a "mixed use zone," theoretically allowing some forms of economic activity within.
As such, a mix of copper and gold are extracted. Any displacement is incidental, resulting from negligence, mainly.
Soil and water contamination have rendered Donoso-Colon increasingly uninhabitable, with many people fleeing into the nearby city of Colon.
"If it's a protected area without a management plan then the mining companies can do whatever they want," says Arauz, the CIAM's lawyer.
The irony is not lost on her.
As CIAM notes,
"it is virtually impossible to build a 90,000 to 120,000-ton-per-day operation to produce around 200,000 tons of copper per year within the Donoso Natural Protected Area, within the Gulf of Mosquitos Important Bird Area (IBA), and within the Mesoamerican Biological Corridor (MBC), without severely affecting this pristine forest."
Just sixty miles up the Atlantic coast is Central America's largest protected area, La Amistad International Biosphere Reserve, a top IUCN billed "strict nature preserve" spilling from Northern Panama into Costa Rica.
The million-plus acre reserve houses the highest point in Central America and the shortest path between the seas after the Panama Canal route.
On a sunny day, one can peer out to the Atlantic Ocean to one side and spot the Pacific on the other.
Amistad's residents have been removed since the reserve was founded in the aftermath of the US military invasion, "Operation Just Cause," in 1989.
Ascending the hills of Volcan Baru, it's hard to miss the large white PB pipeline jutting through the middle of the protected Talamanca mountains, transferring crude between the seas despite its history of catastrophic spills.
On the ground, Chiquita and Del Monte Fruit company plantations stretch as far as the eye can see.
At the reserve's establishment, after a change in government in Panama City post-US invasion, Texaco earned 1.1 million acres of drilling rights throughout the entire biosphere, causing even the normally business-permissive OAS to raise alarm over this apparent paradox.
Nowadays, drunken men in tattered tribal garb stumble along narrow roads in between barbed wire fences of the protected area's "buffer zone," forbidden from entering "core conservation zones" within.
Atop the mountain, a modest log ranger station is manned by one of 175 park rangers in Panama "trained at handling conflicts with intruders to the park," according to the World Bank's 2005 implementation report (No: 34757).
This loan is one of several to consolidate Panama's protected areas as connecting nodes in the Mesoamerican Biological Corridor, an unbroken string of protected areas from Mexico to Colombia.
This project is funded and implemented by the World Bank's Global Environmental Facility, along with its partners in conservation.
Amidst beetles preserved in glass jars and protected area maps on the walls, visitors at the ranger station are first required to sign their names into a log before being led along a hike into the reserve's only accessible area - a 700-meter hiking trail that circles back to the lodge.
Around the perimeters of the reserve, some World Bank-funded "alternative livelihood" micro-projects can be found scattered about - honeybee farms without honeybees, ecotourism initiatives without any tourists, eco or otherwise, or any place for them to stay or eat, for that matter.
The park ranger explains that this location on the mountain once served as a stronghold of General Noriega's army, but now is devoid of human occupation, through conservation policy; though he later admits, when pressed,
"there is much drilling in the park - oil, gas coal."
He adds,
"anyone caught living in the park is visited by armed guards with machine guns and asked to leave. There is no hunting, fishing or slash and burn agriculture [crop rotation farming] allowed."
The ranger reports anyone attempting to sneak back into the park for fuel wood or meat to Panama's de facto military, The National Police - units funded and armed by US taxpayers to carry out displacement.
The World Bank's GEF (Global Environmental Facility) and the US State Department also support NGOs empowered to grant natural resource concessions, resolve conflicts, and block potential protected area interlopers, from natives to national governments, by primarily legal means of protest, or through "educational awareness campaigns" to enlighten the public.
Protecting Resources from the Public
The main victims of conservation, of course, are the indigenous.
As one leader speaking on behalf of Panama's tribal communities (the Naso, Ngobe and others), Pedro Abrego, wrote in a letter to the World Bank,
"we the undersigned communities of the annexed area of the Bocas del Toro province have decided to DENOUNCE the government of the Republic of Panama and the staff of the World Bank office in Panama in relation to the loan of the Panamanian National Land Administration Program (PRONAT in Spanish), as well as the consulting and information methods, and the system to measure the territory Ngabe of the Bocas del Toro province, the International Park (World Heritage Site)…"

"Practically since that moment [of the protected area land administration program implementation], the lack of territorial protection has allowed tourism, mining and hydroelectric enterprises to speculate with our land which is shamelessly given away…"
Abrego was also told, in effect, that,
"this is a protected area, and we have no rights over this land."
He is referring to a 2001 World Bank loan floated to Panama designed to shore up its protected areas through far-reaching land management programs demarcating new land and political boundaries beyond the scope of parliamentary decision-making.
Specifically, loan 7045-PAN provides for,
"land administration activities that cover a range of land regularization actions, including legal rights recognition, titling, conflict resolution, legal cadastre, and registry, and the consolidation of SINAP [Panama's National System of Protected Areas] and indigenous territories, which include mapping, field demarcation, buffer zone limits, determination of their legal status; and land management plans," which fuel the trend in land giveaways and displacement so typical of protected areas like this one.
Central America's largest protected area, La Amistad International Park was established in 1991 through a "Debt-for-Nature swap" - deals involving any combination of central banks, private banks, and conservation groups agreeing to swap or write-off portions of debt in exchange for protected area fortification.
Under a version of these deals, enabled by the Enterprise for the Americas and Tropical Forest Conservation Acts, sovereign debt owed to the U.S. government, accrued from past USAID loans, for instance, is eligible to be sold off by the U.S. treasury on orders from the executive branch to conservation groups like,
...at steep discounts.
The difference between the original face value of the debt and the discounted rate at which it is sold is invested into conservation activities and protected areas.
The debtor country pays interest into so-called "environmental funds" managed by TNC, CI or WWF, under subsequent Tropical Forest Conservation Agreements designed to shore-up protected areas managed by conservation groups.
According to a report by the Congressional Research Service, Debt-for-Nature swaps not only undermine national sovereignty, but they also fail to write off significant portions of debt.
Among those calling for a more equitable approach to conservation has been the World Bank's first in-house sociologist, Michael Cernea, who concluded that,
"Forced displacements have been used widely to 'cleanse' protected areas of people, rather than being confined to a few instances."
He recommended that,
"forcible evictions for conservation should be openly and explicitly questioned, side-lined and abandoned as a policy."
In a phone interview from his home in Washington, DC, Cernea explains,
"I've been screaming about this publicly for years! And how did my employer, the World Bank, respond? They promoted me - straight to the top!" Cernea laughs.
But the levity is brief, as he continues:
"Protected area conservation has come to be hated in the world because local people are the first to suffer. People are made poor; they go to the slums.

The GEF [The World Bank's Global Environmental Facility] where I worked took a study in sixteen countries to analyze what benefits came from conservation to the locals, who are the first to pay for and suffer from conservation and parks and so on.

In all the countries we studied, the find was that there was nothing [beneficial].

So, people are asking, 'what's in it for me?'"
The slums of Colon, Panama, where masses are packed between Panama's protected areas, enveloping Colon on all sides, shows exactly what Cernea is talking about.
Cernea bleakly concluded:
"So far the premise of many parks across the developing world has been the same:

The forcible uprooting of resident and mobile forest populations, often coerced violently to relocate, with under resourcing of resettlement compounded by brutality during displacements, summary violent eviction, wanton destruction.

Field accounts of physical violence abound; unnecessary pain is inflicted, and social disarticulation is often deliberately pursued as a means to inhibit people's active resistance to displacement."
Hoping to mitigate the hardship, Cernea developed the standard model, now used by development banks the world over, capable of predicting outcomes of planned displacements - measured in landlessness, joblessness, homelessness, cultural and economic marginalization, food insecurity, and the like, before decisions are made to displace people.
While the state participates in establishing protected areas, later down the line a government can just as quickly turn against the whole concept, harboring other, nationalistic, ideas for development which conservationists reject, not for the environmental reasons they state, but in reality, for geopolitical ones.
"Protected areas have become one of the biggest obstacles to sovereign assertions over natural resources," says Carlos Echevarria, an officer at the Inter-American Development Bank who oversees energy operations in Costa Rica.
He adds, via Skype,
"protected areas have absolutely nothing to do with protecting the environment," although they do serve other purposes, which he is reluctant to mention.
Now reaching over 100,000 worldwide, protected areas have doubled since the end of the Cold War and the 1992 launch of the World Global Environmental Facility (GEF), which claims to have mobilized $75 billion for related activities.
(Michael Cernea predicts that the number of PA's and their related effects will grow in the coming years as increasing foreign direct investment [FDI] facilitates land grabs enabled by conservation.)
Part of a longer, ongoing story, Panama's government is trying to take back rivers flowing from La Amistad's mountains, a catchment basin for rainfall, where the headwaters form that feed rivers which provide the bulk of the nation's energy supply though hydroelectric power.
The government's plan is to construct power lines, roads and other infrastructure connecting Central America as part of a project led by America's European rivals working with public utilities owned by the Central American states, all while excluding North American participation.
Conservationists call this an affront to protected areas, deploying groups on the USAID payroll (through programs like Parks in Peril and Greencom) who protest the state's new energy platform, even as they permit US companies to build dams and mines.
International arbitration records and government documents submitted to UNESCO reveal that, to help facilitate the project alternatively known as Puebla Plan Panama, in 2015 Panama cancelled a gold mining concession in Amistad Park belonging to New York's Dominion Minerals, along with a hydroelectric dam concession.
To make a long story short, Panama's government seeks to redirect national inland rivers for its own purposes, while excluding traditionally dominant hemispheric actors - an unacceptable violation of the Monroe Doctrine rejected by conservation groups on highly selective environmental principles.
As a famous study of the Bosawás Biosphere in Nicaragua,
"Your Biosphere is my Backyard,"
...by The International Center for Forestry Research, concluded, amongst a protected area's many actors, the host country's central government ranked as being one of the least influential in terms of influencing these "stateless spaces," managed under conservation.
Of course, given Latin America's long history of "radical nationalism," current trends threaten to change all that...