from TheMindUnleashed Website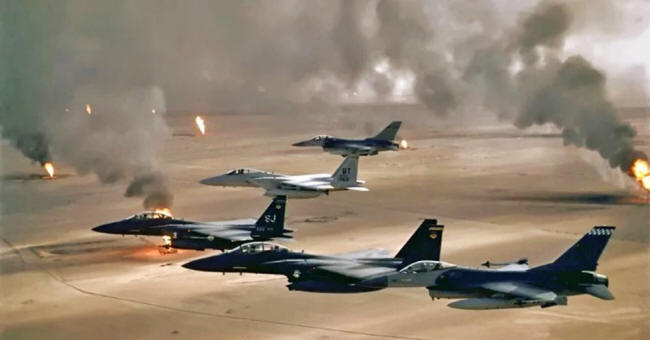 Military spending is growing around the world and in 2017 it increased by 1.1 percent, according to the Stockholm International Peace Research Institute (SIPRI).
U.S. arms expenditures rose by $9.6 billion, driving the global rise and further consolidating the status of the United States as the world's top spender on the military - by far...
The U.S. spending on war is rooted in post-World War II "new Pentagon capitalism" that eventually became known as the military-industrial complex.
The model, revolutionized by then-Army Chief of Staff and later President Dwight D. Eisenhower, ensured that the United States' scientific research, technological and industrial capacity would become "organic parts of our military structure" in conditions of national emergency, effectively giving the civilian economy a dual-use purpose.
The model eventually gave birth to the sprawling military-civilian economic base, or "military-industrial complex," that Eisenhower famously criticized in his 1961 farewell address to the nation.
Civilian industry, science, and academia were used alongside an exorbitant and perpetually-expanding war budget to underwrite the Defense Department's never-ending state of conflict with Cold War enemies, making the world safe for the unchallenged reign of the United States while "pump-priming" the U.S. economy whenever additional surges of "military Keynesian" spending by Washington was required.
The main beneficiary of the model has been the U.S. 'defense' industry.
The U.S. is now home to five of the world's top 10 large military contractors, with U.S.-based companies accounting for 57 percent of total arms sales by the top 100 large defense contractors worldwide, according to SIPRI data analyzed by USA Today.
Companies such as Lockheed Martin, which made $44.9 billion in arms sales in 2017, enjoy revenue from the U.S. government alone that totals more than the combined annual budgets of the Internal Revenue Service (IRS) and Environmental Protection Agency (EPA).
Meanwhile, a number of other companies across the globe have raked in handsome profits from the global trade in arms, many of which are used to commit horrific atrocities and crimes against humanity in such battlegrounds as Yemen.
According to a new analysis of SIPRI data by 24/7 Wall St, the following companies made the most money from governments' addiction to war-spending and the demand for arms in conflict zones all over the world:
20. Textron

Country: United States
Arms sales: $4.1 billion
Total sales: $14.2 billion
Profit: $1.2 billion
Main Products: Armored vehicles, unmanned aircraft, and attack helicopters.

19. Naval Group

Country: France
Arms sales: $4.1 billion
Total sales: $4.2 billion
Profit: $36.5 million
Main Products: Naval defense systems, warships and submarines.

18. Leidos

Country: United States
Arms sales: $4.4 billion
Total sales: $10.2 billion
Profit: $242.0 million
Main Products: IT infrastructure, data analytics, cyber security, logistics, surveillance vehicle and equipment development and maintenance

17. Rolls-Royce

Country: United Kingdom
Arms sales: $4.4 billion
Total sales: $19.3 billion
Profit: $5.3 billion
Main Products: Defense aerospace, marine and nuclear power systems, including engines for aircraft like the C-130 Hercules, T-45 Goshawk, and Japanese military V-22 Osprey fleet.

16. Honeywell International

Country: United States
Arms sales: $4.5 billion
Total sales: $40.5 billion
Profit: $1.7 billion
Main Products: Long-range weapons systems, operating systems for unmanned aerial vehicles, and missile navigation systems; Chinook helicopter T55 engines; maintenance and miscellaneous services.

15. United Shipbuilding Corp.

Country: Russia
Arms sales: $5.0 billion
Total sales: $5.6 billion
Profit: $101.0 million
Main Products: Shipbuilding, repair and maintenance facilities across the Russian Federation.

14. United Aircraft Corp.

Country: Russia
Arms sales:$6.4 billion
Total sales: $7.7 billion
Profit: $325.3 million
Main Products: MiG, Sukhoi, and Yak fighter jets.

13. Huntington Ingalls Industries

Country: United States
Arms sales: $6.5 billion
Total sales: $7.4 billion
Profit: $479.0 million
Main Products: Nuclear-powered aircraft carriers and submarines, surface combatants, amphibious assault and transport vehicles, and Coast Guard Cutters.

12. L-3 Technologies

Country: United States
Arms sales: $7.8 billion
Total sales: $9.8 billion
Profit: $693.0 million
Main Products: Intelligence, surveillance, and reconnaissance products and services; communications technology used in top U.S. drones such as Predator and Global Hawk; power distribution and communication technology used by the U.S. Navy's Virginia-class submarine.

11. United Technologies Corp.

Country: United States
Arms sales: $7.8 billion
Total sales: $59.8 billion
Profit: $4.9 billion
Main Products: Advanced systems for military helicopters such as rescue hoists, autopilot systems, laser-guided weapon warning systems; engines used by military aircraft in 34 militaries worldwide, including the latest U.S. jets.

10. Almaz-Antey

Country: Russia
Arms sales: $8.6 billion
Total sales: $9.1 billion
Profit: $422.6 million
Main Products: Surface-to-air missile systems.

9. Leonardo

Country: Italy
Arms sales: $8.9 billion
Total sales: $13.0 billion
Profit: $310.3 million
Main Products: Land and naval electronics; information systems; helicopters, jet aircraft, and unmanned aerial vehicles; torpedoes and ammunition, weapons systems.

8. Thales

Country: France
Arms sales: $9.0 billion
Total sales: $17.8 billion
Profit: $931.1 million
Main Products: Land, air, sea and cyber defense products and services; radar systems for missile fire control.

7. Airbus Group

Country: Trans-European
Arms sales: $11.3 billion
Total sales: $75.2 billion
Profit: $3.3 billion
Main Products: Commercial and private aircraft; Eurofighter Typhoon jet used in numerous militaries including the Gulf Arab states; cyber security; secure communication devices; A400M and C295 transport aircraft.

6. General Dynamics Corp. (US)

Country: United States
Arms sales: $19.5 billion
Total sales: $31.0 billion
Profit: $2.9 billion
Main Products: Warships such as the Arleigh Burke-class Destroyer and Zumwalt-class guided missile destroyer; submarines including the Columbia-class sub; the latest U.S. Army Abrams tank; communications/IT/cyber security systems.

5. Northrop Grumman Corp.

Country: United States
Arms sales: $22.4 billion
Total sales: $25.8 billion
Profit: $2.0 billion
Main Products: Fighter jets including the B-2 stealth bomber and F-35; maintenance for U.S. strategic fleets and communications sytems.

4. BAE Systems

Country: United Kingdom
Arms sales: $22.9 billion
Total sales: $23.5 billion
Profit: $1.1 billion
Main Products: Ground combat vehicles such as the Challenger 2; fighter jets including the Typhoon and F-35.

3. Raytheon

Country: United States
Arms sales: $23.9 billion
Total sales: $25.3 billion
Profit: $2.0 billion
Main Products: Air-to-surface, surface-to-air, air-to-air, and surface-to-surface precision guided missiles; bombs and torpedoes; tactical small-arms sights.

2. Boeing

Country: United States
Arms sales: $26.9 billion
Total sales: $93.4 billion
Profit: $8.2 billion
Main Products: Civilian aircraft such as the 737, 747, 767, 777, and 787 families; KC-46 refueling aircraft; P-8 Poseidon aircraft; F-15 fighters; Apache helicopters.

1. Lockheed Martin Corp.

Country: United States
Arms sales:$44.9 billion
Total sales: $51.0 billion
Profit: $2.0 billion
Main Products: F-16, F-22, and F-35 fighter jets; sonar technologies; ships, missile defense systems, and missiles used by the Navy