by Jay Syrmopoulos
July 14, 2018
from TheFreeThoughtProject Website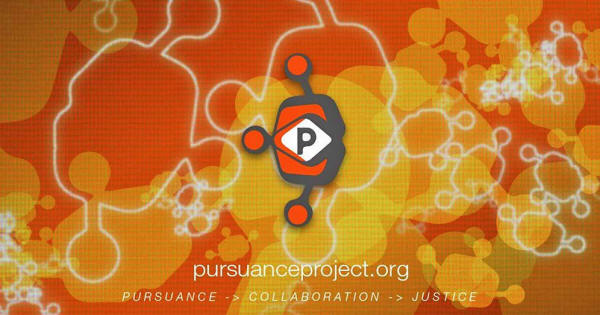 An award-winning journalist
and digital rights activist
is close to obtaining the required funding
to build a military grade encrypted internet
free from the spying eyes of the state...
Digital rights activist and award-winning journalist Barrett Brown's Pursuance Project is close to becoming a reality, as the Kickstarter crowdfunding campaign for the creation of this ambitious suite of interconnected digital tools, including,
virtual conference rooms

calls

video

text

project management,
...all protected by military-grade end-to-end zero-knowledge encryption, closes in on its goal needed to fund the project's development costs.
The Pursuance Project is a software platform that Brown designed to help journalists, researchers, and activists collaborate securely - without fear of government or private contractor surveillance.
The software offers the same protection that SecureDrop provides but extends that level of security to your team communications, emails, texts, video and more.
Brown explained the extreme importance of this project, stating:
"No activist should have to entrust their life to Facebook.

No one should have to choose between security and the ability to organize large numbers of people. No one should have to use platforms designed to waste your time in the course of trying to make their lives count.

When Pursuance launches, things will be different."
For those unfamiliar with Brown's history as a prolific digital activist, a bio by the Courage Foundation provides insight:
Barrett Brown is a US journalist and the founder of Project PM, a crowd-sourced investigation into the cyber-industrial complex who was imprisoned for charges relating to the 2011 Stratfor hack.

He was described as an unofficial spokesperson for Anonymous before he renounced his ties to the collective in 2011. He's written two books, in addition to several articles about politics and journalism in the digital age.

In 2012, the FBI raided his house, and later that year Barrett was indicted on 12 federal charges.

The most controversial charge, linking to the hacked data, was dropped, but in 2015 Brown was still sentenced to 63 months in prison. Reporters Without Borders cited Barrett's prosecution among its reasons for the United States dropping 14 spots on its press freedom rankings in 2014…

Barrett was released from prison to a halfway house on 29 November 2016.
Brown explains the goals of the Pursuance Project in the video below:
It's clear that with ever-watchful eye of government surveillance, working in unison with social media giants, has created a landscape for mass surveillance that leaves those whose work requires anonymity at risk.
The Pursuance Project says that they are,
"the world's first platform specifically designed for process democracy."
The importance of a platform from which individuals can collaborate and communicate in a secure digital environment cannot be overstated, as the current paradigm is that of a freedom suffocating mass surveillance society.
The Pursuance Project allows for groups and individuals to privately create, without fear of their worked being spied upon by outside actors.
This project will allow for those engaged in,
human rights work

investigative journalism

whistleblowing

activism, etc.,
...to operate in a private and secure environment, where governmental entities that view these activities as threats are kept out...