by Alfred Lambremont Webre
Seattle Exopolitics Examiner
March 28, 2010
from Examiner Website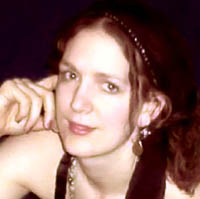 Eisenhower recruited by Mars colony in 2006

Independent Mars colony recruits Andrew D. Basiago and Laura Magdalene Eisenhower have confirmed the existence of a secret human survival colony on Mars in a joint appearance on Exopolitics Radio (far below media controls) with Alfred Lambremont Webre.

Mr. Basiago, 48, a Cambridge-educated lawyer who practices law in Washington State, was a child participant in the DARPA time travel program Project Pegasus (1968-72) and later teleported to a U.S. base on Mars twice in 1981.
Ms. Eisenhower, 36, the great-granddaughter of U.S. President Dwight D. Eisenhower, was the subject of a sophisticated attempt to recruit her into the secret Mars colony in 2006 that she broke free from after resisting its deeply rooted manipulations and chose to live out her destiny on Earth

They described how the secret Mars colony is funded by black budget military and intelligence sources as a survival mechanism for the human genome in the event that solar flares, nuclear war, or some other cataclysm ends human life on Earth.

In the wide-ranging, three-hour interview, Mr. Basiago termed the cover-up of the Mars colony "Marsgate" and called for a Congressional investigation of the U.S. presence on Mars, with its emphasis on military occupation rather than diplomatic engagement of the indigenous human society living in underground cities beneath the surface of Mars.

Ms. Eisenhower stated that "Alternative 3" - the notion that trillions of dollars of resources should be spent to protect human life by placing it on Mars - should give way to "Alternative 4," a new public awakening to achieve a sustainable civilization on Earth.

Their historic, interactive exposé of Marsgate on Exopolitics Radio (far below media), was based on direct personal experience.
For Mr. Basiago, this consisted of the two trips that he took to Mars in 1981, when, at age 19, he walked on the surface of the Martian terrain after teleporting there from a CIA facility in El Segundo, California.
For Ms. Eisenhower, this consisted of clandestine efforts that were made in 2006, when she was 33, to infiltrate her personal life and recruit her as a member of the secret Mars colony. She was recruited for a mission that would travel to Mars and learned that a colony had been under development there for several decades.
It wasn't until later that she found the connection between the mission and the colony, in very significant ways.

During the interview (below media), the two emerging figures in the Disclosure Movement discussed their opposition to factors guiding the secret Mars colony. These include fear, secrecy, psychological manipulation of recruits, and the abuse of quantum access technologies and other covert methods to identify potential colonists.
Mr. Basiago speculated that the Mars colony is being staffed by individuals who descend from specific Aryan bloodlines that contain a Martian genetic substrate and that do not represent the genetic diversity of the entire human race on Earth.
Ms. Eisenhower, agreeing, also was exposed to and understood the archetypal aspects and significance of it. They suggested that this policy be reconsidered.
In various venues, Mr. Basiago, Ms. Eisenhower, and this reporter have advocated a treaty between Earth and Mars society that would establish a Mars protectorate and normalize diplomatic recognition and immigration between the two planets.

Following the interview, Mr. Basiago and Ms. Eisenhower issued a joint statement about human survival colonies on other planets.
It is a positive thing for the human race to put survival colonies on other planets. Earth has been struck by many cataclysms in the past, and so we should protect the human genome by placing human settlements on other celestial bodies.

Yet, when secrecy surrounding such projects tempts government to rob the free will of individuals, and excludes humanity from debating a subject that implicates the whole human future, and diverts the destiny of a planet to serve an off-planet agenda, the conscience of a free people requires that such projects be undertaken in the bright sunshine of public scrutiny, not within the dark corridors of the military-industrial complex.
– Andrew D. Basiago and Laura Magdalene Eisenhower, 2010

Listen to Exopolitics Radio interview

You can listen to the in-depth three hour radio interview by Alfred Lambremont Webre with Andrew D. Basiago and Laura Magdalene Eisenhower by clicking on below media controls.

Eyewitness evidence of the U.S. presence on Mars

With their joint disclosure, Mr. Basiago and Ms. Eisenhower - one a crusading lawyer, the other a member of one of America's presidential families - joined a growing cadre of individuals who have stepped forward with eyewitness testimony that reveals the covert U.S. presence on Mars.
These include Michael Relfe, who in two documented books describes his 20-year service (1976-1996) as a member of the U.S. armed forces staffing the secret Mars colony, and former DoD scientist Arthur Neumann, who has stated publicly that he has teleported to the secret Mars colony for project meetings.




Alternative 4 and the positive time line

Alternative 3 is the title of a motion picture that was to have premiered on April 1, 1977 in the United Kingdom. It later played only once in June 1977.
In the motion picture,
"It was claimed that scientists had determined that the Earth's surface would be unable to support life for much longer, due to pollution leading to catastrophic climate change. It was proposed that there were three alternatives to this problem: the first involved the detonation of nuclear bombs in the stratosphere in order to allow the pollution to escape.

The second alternative was the construction of an elaborate underground city, a solution reminiscent of the finale of Dr. Strangelove [as in Deep Underground Military Bases or DUMBs]. The third alternative, the so-called "Alternative 3," was to populate Mars via a way station on the Moon."
In their interview with Alfred Lambremont Webre, Mr. Basiago and Ms. Eisenhower discussed how a perceived need to escape solar system cataclysm or nuclear war while preserving the human genome is a factor driving the secret Mars colony.
Underlying themes of Earth cataclysm and war seem to have led a breakaway military security apparatus to develop a plan to occupy Mars and the solar system covertly and through the manipulation of humanity's free will. Although the 1977 British motion picture may have been a work of fiction or even a hoax, by the evidence, the Alternative 3 film appears to be referring to a real secret Mars colony.
Mr. Relfe indicates that he first arrived at the Mars colony in 1976 and Mr. Basiago states that he teleported to Mars in 1981, only four years after Alternative 3 was to have been released to the public.



Alternative 4

In the interview on Exopolitics Radio with Alfred Lambremont Webre, Ms. Eisenhower introduced the theme of "Alternative 4."
This denotes a new dimension of human consciousness, one that breaks away from the dualistic reality of the permanent war economy. That economy's ultimate expression seems to be a planet Earth destroyed by environmental pollution or war, solar or other natural catastrophe; meanwhile, a secret escape colony is prepared for a pre-selected sample of the human genome.

According to Ms. Eisenhower, "Alternative 4" means exposing Marsgate and the "Alternative 3" mentality that has led to the present cul-de-sac for humanity - an intentional living hell on Earth.
Alternative 4 means embracing a new, positive time line, in which Earth and humanity do not face cataclysm at pre-determined dates like 2012 (a Mayan calendar meme date) or 2442 (a secret Masonic meme date of 1776 + 666).


'How I Empower the Positive Timeline'

Ms. Eisenhower writes:
"I have endless thoughts and ideas, action plans and solutions and can link our ancient history, wisdom, divine blueprints and evolution into present time - knowing that a golden future is a result of us being able to harness our creative power and our highest potential through a deeper and more intimate knowledge of our roots and the hidden aspects of truth that are out there.

"I am aware of what it takes to reach our ultimate goals and protect the integrity of consciousness, and what is required of us to truly have freedom and justice in this world. I have access to technologies, plans and truths that can restore our planet and am connected to many who are already actively working on preventing Global Crisis and who are manifesting all the necessary change.

"I wish to draw attention to the things that are most important for our world right now and hope to steer our creative power into the causes, projects and understandings - that create the greatest shift both internally and externally.

"I have both practical, logical wisdom and a deep understanding of the esoteric, paranormal and mystical. With a wide range of interests and a vast education that was mostly self-taught, I am capable of uniting us and our missions and truly taking us on an adventure that captivates the soul, our deepest hopes and quest for answers. And I can help reunite us with what is most familiar and important for our awareness to grasp - as we transition into an age of Awakening...

"This is a false war - there are harmful technologies and we can stop these wars. We are all connected to the forces of nature and there are many who are doing work to stop this. This is why I am coming out. Regardless of this story, the positive timeline must be empowered and any potential deceits, inhumane use of technology or doom scenarios must be addressed and looked at closely. This is because the only doom we are in for is the potential that we might be controlled and led to believe in things that play on our weakness and vulnerability, when in fact we may have nothing to fear at all.

"There is a lot of work that is ahead of us as we dismantle the technologies, dissolve the poisons and break free of the games and lies. There are agreements between lower alien races and humans and because of this things have gotten out of control. Our universal allies must be recognized and we must mend the errors of the past through being the solution - rather than the product of their control and projections about our future.

"Many are blind to the manipulative agenda, including certain presidents. Anytime we act out of fear, we have dug ourselves deeper into the false matrix. When we act from wisdom and awareness of who we really are - we are agents of divine will, rather than part of the breeding doom scenarios that become a self-fulfilling prophecy, coupled with many forces that support that. We also need to guard against false second-comings and recognize that it is our divine blueprint that is becoming illuminated. We do not need to be rescued, just awakened.

"We have to fall back on our positive nature and higher selves to give our creative energy the fuel to break free. We can do this! We are the creators and dreamers. We can safely travel throughout space as well - with our freedom, divinity and spirit intact."
Ms. Eisenhower quotes Caitlin Matthews:
"Sophia is not a Goddess for women or men exclusively. She will give us a totality of wisdom, if we accept her for both the practical Earth wisdom of the Black Goddess and the transcendent cosmic wisdom of the World-Soul which are equally available to us."