by Tyler Durden
August 23, 2018
from ZeroHedge Website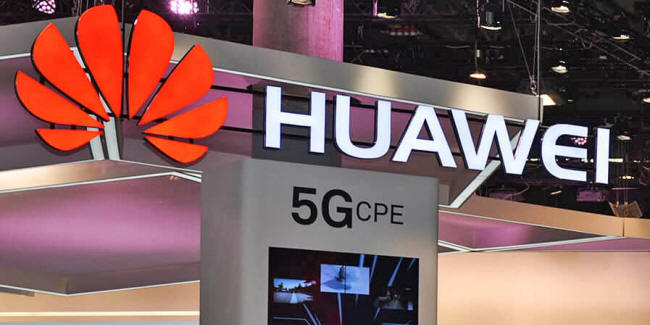 Since Huawei and the Chinese Technocracy are closely aligned, Australia has finally figured out that if allowed to participate in their 5G rollout, Huawei would be a direct conduit for espionage.

China openly seeks to be the global leader in 5G technology. Huawei has long been suspected of spying for the government.



China Furious After Australia Bans Huawei From Mobile Network Project

Taking a page out of Trump's playbook - and coming at a tumultuous time for the country, with PM Malcolm Turnbull apparently on his way out and the local government in disarray - Australia banned Chinese telecom giant Huawei Technologies from supplying equipment for a 5G mobile network, citing risks of foreign interference and hacking which Beijing angrily dismissed as an "excuse" to tilt the playing field against a Chinese firm.

The decision aligns Australia with the United States, which previously restricted Huawei and compatriot ZTE Corp from its own market for similar "security" reasons.

The surprising move - which has already antagonized Australia's biggest trading partner - follows advice from security agencies, and signals a hardening of Australia's stance toward its biggest export market as relations have soured over Canberra's allegations of Chinese meddling in Australian politics.

In a statement on Thursday, the government said that national security regulations typically applied to telecom carriers would now be extended to equipment suppliers:
"firms who are likely to be subject to extrajudicial directions from a foreign government" would leave the nation's network vulnerable to unauthorized access or interference, and presented a security risk, the statement said according to Reuters.
Chinese law requires organizations and citizens to support, assist and cooperate with intelligence work, which analysts say can make Huawei's equipment a conduit for espionage.
"That's what you get when you have the aligned strategy of a Chinese company with the Chinese government," said John Watters, Executive Vice President and Chief Corporate Strategy Officer of cybersecurity firm FireEye Inc.

"(Australia) basically made a decision to spend more money to have more control over their national communication system, because they're up against a competitor that will sacrifice near-term margin for long-term intelligence advantage," he said.
While Australia did not identify the Chinese firm, an Australian government official said the order was aimed at Huawei and blocked its involvement in the network.

On Twitter, Huawei's Australian arm, which has denied it is controlled by Beijing, said on Thursday that the action was an,
"extremely disappointing result for consumers".
China, predictably, was furious with the announcement coming just months after the US engaged in a similar ban for security grounds.
In Beijing, foreign ministry spokesman Lu Kang said China expressed "serious concern", adding that Australia should not,
"use various excuses to artificially erect barriers and conduct discriminatory practices".
China also called the Australian decision wrong and said it should,
"not interfere" nor "restrict Chinese businesses from operating normally" for security purposes, an exclusion which apparently is only permitted for China.
CHINA COMMERCE MINISTRY SAYS AUSTRALIA SHOULD NOT INTERFERE AND RESTRICT CHINESE BUSINESSES FROM OPERATING NORMALLY BASED ON THE GROUNDS OF NATIONAL SECURITY


CHINA SAYS AUSTRALIAN GOVT.'S 5G DECISION IS 'WRONG'
"We urge the Australian government to abandon ideological prejudices and provide a fair competitive environment for Chinese companies' operations in Australia," Lu said during the news briefing.
As Reuters notes, Australia had previously banned Huawei, the world's largest maker of telecommunications network gear, from providing equipment for its fiber-optic network and moved to block it from laying submarine cables in the Pacific.
However, the latest Huawei exclusion from the mobile network comes at a time of particularly strained relations between Australia and China, which Prime Minister Malcolm Turnbull had two weeks ago sought to reset with a conciliatory speech.
"It is... out of step with this attempt to reset the relationship," said James Leibold, Associate Professor of Politics and Asian Studies at La Trobe University.

"They're not going to forget Turnbull's earlier strident language anytime soon," he said.
The good news for China:
Turnbull's tenure as prime minister is doomed as his ruling party struggled with an internal leadership battle which saw ministers desert Turnbull and call for a leadership vote.
The bad news:
Turnbull will most likely be replaced with right-wing populist Peter Dutton, who this week carried out a burst of TV and radio interviews to outline a populist policy manifesto, including removing a tax on electricity bills for families and pensioners, a wide-ranging investigation into energy companies blamed for spiraling prices, and cuts to immigration.
And since it is unlikely that Peter Dutton will be any more hospitable to China's "intelligence" overtures than his predecessor, the most likely outcome is that yet another spoke of global trade - that between China and Australia - is about to be engulfed by flames as yet another G-10 nation turns populist and protectionist...