by Aaron Kesel
February 04, 2019
from ActivistPost Website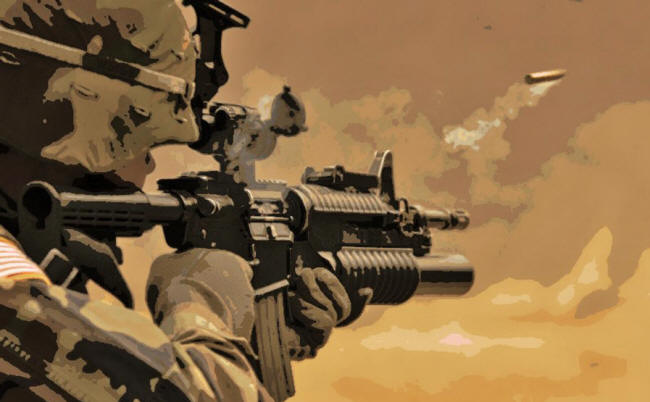 According to a State Department source, corroborated by a video news report, U.S. troops are already along Colombia's border. This comes as Venezuela has reportedly moved military armaments and ammunition to Colombia's border as well.
Meanwhile, Russia has threatened the U.S. amid announcing its withdrawal from the Cold War Intermediate-Range Nuclear Forces (INF) Treaty, following suit by suspending the agreement.

Although it's not 5,000 troops along the border; a source said the U.S. was propagandizing 5,000 troops on John Bolton's notepad to hide a larger troop count of 30,000+ proposed to Colombia.

This writer's source stated that recently a former Pentagon official stressed the fact that if the U.S. was to get militarily involved it would need way more than 5,000 troops.
The former official was reported by The Times.
"A military operation in Venezuela requires the presence of between 25,000 and 30,000 American soldiers, especially since the success of this operation depends largely on the loyalty of the Venezuelan military forces to Nicolas Maduro," the official told The Times.
A news report by Vesti, a Russian news outlet, corroborates my own source who stated U.S. Southern Command (SOUTHCOM) is already down on the ground in Colombia.
For those that don't know, SOUTHCOM's Area of Responsibility encompasses 31 countries and 16 dependencies and areas of special sovereignty, which includes Colombia, according to its website.
The U.S. already has nine military bases in Colombia, so to say that it wants to send only 5,000 troops to Colombia is a ludicrous claim!
There are already troops there!

These are additional troops that Bolton and the Pentagon want to send to Colombia. Then there are 76 total bases in Latin America, as of 2018, according to this writer's knowledge.
On that regard, the maximum number of military personnel and contractors allowed in the country at a time by U.S. law is 1,400, as The Guardian reported when a Colombian constitutional court ruled U.S. access to more bases in the country was illegal because it wasn't approved by legislators at the time in 2010.

Further, a little bit of digging and you will find there was an alert last year in February, where the former head of Southern Command, Kurt Tidd, met behind closed doors with Colombian Defense Minister Luis Carlos Villegas and other senior officials.
In this meeting, the Colombian president emphasized the importance for the region of what was worded as,
"restoring the democratic channel in Venezuela."
Elreporterosf, writes:
A prominent place appears to be assigned to two fast-acting US military bases installed in the communities of Vichada and Leticia, in the Colombian department of Amazonas, bordering Venezuela in the southwest of the country, according to reports.

These bases, which are added to those already existing, represent an important step in the military occupation of Colombia, considered by the late US Senator Paul Coverdell as a necessary preliminary action to invade Venezuela.

Also, the 2009 military agreement between Washington and Bogota allows Americans greater access to military bases, including Palanquero, considered strategic because of its position in the Americas.

In the siege of Venezuela, the US assault troops stationed in the 'control and monitoring' bases of Reina Sofía, in Aruba, and Hato Rey, in Curaçao, and the operations center would have a seat in the base of Palmerola, in Honduras, the largest foreign installation of that nature in Latin American territory.
Meanwhile, The New York Times reports that in September the Trump administration held secret meetings with rebellious military officers from Venezuela to discuss their plans to overthrow President Nicolás Maduro, according to American officials and a former Venezuelan military commander.
Although, The NY Times states in its report that American officials eventually decided not to help the plotters, the plot itself and intention is even documented in MSM.
The Trump administration certainly isn't trying to hide its effort being put forth to invade Venezuela be it covertly or overtly. As this article will document they are just continuing operations from past administrations.

It's the same story over and over again from,
Panama in 1903

Iran, 1953

Guatemala, 1954

Congo, 1961

Vietnam, 1963

Chile, 1973

Iraq, 2003,
...and so on.
Just different players and a different game board (country); the end goal is always regime change and overthrowing the leadership of a country (the U.S. doesn't have control over) by whatever means, even if illegal.
Although typically what you will find throughout history the U.S. starts by placing sanctions to weaken the economy, then complain about the people living in poverty under the leader of another country.


We can even trace efforts for U.S. regime change in Venezuela back to 2010, due to leaked WikiLeaks Stratfor emails discussing such actions through using the Center for Applied Non-Violent Action and Strategies (CANVAS), a CIA front company.
Hat tip from Gray Zone Project.
"Success is by no means guaranteed, and student movements are only at the beginning of what could be a years-long effort to trigger a revolution in Venezuela, but the trainers themselves are the people who cut their teeth on the 'Butcher of the Balkans.'

They've got mad skills.

When you see students at five Venezuelan universities hold simultaneous demonstrations, you will know that the training is over and the real work has begun," Stratfor wrote.
At a meeting on January 28, on the new U.S. sanctions against Venezuela that target the state-owned company PDVSA, Bolton was captured by the mainstream press holding a yellow notepad indicating the potential to send "5,000 soldiers into Colombia."
This writer's source claims that this is utter "bullshit propaganda" since the U.S. already has troops stationed on the ground in Colombia in its nine military bases, including the Southern Command, and the effort to start ramping up the invasion of Venezuela started last year.

The source further states that the,
"U.S. government's military plans will potentially go into effect sometime within the next 6 months while the shorter time frame is more likely," as South Command's new lead Vice Adm. Craig Faller just met in Venezuela with little media attention besides the Russian video report above.
Many may deem this as propaganda by the Russian government; however, the source states the meeting did indeed take place, even if the Russian outlet stretched the facts about Southern Command by not telling viewers they have been in Colombia stationed, the bigger story is the meeting with Craig Faller.
(This writer dug deep and could not find any press or press releases stating the meeting even took place.)
This means that the meeting in part was meant to be kept secret from the public, which is always a sign that something nefarious is in the works.

However, what this writer did find was an article suggesting Venezuela had moved its own military to its border, an interesting coincidence of geopolitical moves taking place to say the least.
This also backs a meeting by Faller and troops (Colombian and U.S.) 'protecting' the Colombian border.
"Residents of Eastern Venezuela have posted footage of heavy artillery systems, main battle tanks and military equipment moving towards the Colombian border," Defence Blog writes.
U.S. President Donald Trump has stated that "all options are on the table," which means military invasion is a possibility.
The source states that this decision is already well decided by top brass they are determined for regime change "war"; and to reiterate, military movements could start as soon as within the next 6 months.
Of note, a press release by the White House last year in November deemed Venezuela one of Washington's top regime change targets, branding the country the leader of a "troika of tyranny."

The Gray Zone Project, further reports:
According to the Venezuelan government, the U.S. was also involved in a plot, code-named Operation Constitution, to capture Maduro at the Miraflores presidential palace; and another, called Operation Armageddon, to assassinate him at a military parade in July 2017.

Just over a year later, exiled opposition leaders tried and failed to kill Maduro with drone bombs during a military parade in Caracas.
The official narrative is that the U.S. wants to help Colombia deal with a surge of Venezuelan immigrants against the country.
However, the true motive of the U.S. is known because John Neo-con Bolton blabbed his big mouth by stating the U.S. wanted Venezuelan oil.
"It will make a big difference to the United States economically if we could have American oil companies invest in and produce the oil capabilities in Venezuela," Bolton told Fox News in an interview this week.
Venezuelan president Maduro said:
"The reason is seizing the oil of Venezuela, because we have the largest oil reserves, we confirm that we have the largest reserves of gold in the world, we have the world's fourth-largest gas (reserves), have large reserves of coltan, diamonds, aluminum, iron, we have drinking water reserves throughout the national territory, we have energy and natural resources".
The U.S. has also issued sanctions against Venezuelan gold, which the White House has warned,
"don't trade in Venezuelan gold, amid claims Russian plane took 20 TONS from country's central bank back to Moscow," Dailymail reported.
Despite this, Bolton has stated, "intervention in Venezuela is not imminent" even while seemingly threatening to send the current Venezuelan President, Nicolás Maduro, to the U.S. military prison at the Guantánamo Bay Naval Station in Cuba if he does not soon step aside.


The "Silent Coup" of Juan Guaidó - PLAN B

Next let's talk about the implanted candidate the U.S. is supporting in what's being deemed as a "silent coup."
As the Gray Zone Project notes,
"Juan Guaidó is the product of a decade-long project overseen by Washington's elite regime change trainers. While posing as a champion of democracy, he has spent years at the forefront of a violent campaign of destabilization."
Some highlights about Guaidó include that he graduated from Andrés Bello Catholic University of Caracas.
He then moved to Washington, DC to enroll in the Governance and Political Management Program at George Washington University, under the mentor-ship of Venezuelan economist Luis Enrique Berrizbeitia, a former executive director of the International Monetary Fund (IMF), Gray Zone Project reported.
Further, Guaidó has in the past been a proponent helping lead anti-government rallies in Venezuela and lead a political party called "Popular Will."

This political party, according to the Gray Zone Project, was connected to Stratfor and CANVAS as,
"key advisors of Guaidó and his anti-government cadre."
The publication goes on to state Guiado and several other student activists allegedly attended a secret five-day training at a hotel dubbed "Fiesta Mexicana" hotel in Mexico, where they planned to overthrow then President Hugo Chavez by generating street violence according to emails obtained by Venezuelan security services, presented by former Justice Minister Miguel Rodríguez Torres.

It's worth noting that the Trump administration's support for Guaidó was preconceived and tightly coordinated, according to The Wall Street Journal.
Yes, the mainstream press actually reported the truth that the night before Juan Guaidó 'declared himself' interim president of Venezuela, the opposition leader received a phone call from Vice President Mike Pence.
Further, all the lawmakers from the Florida base of the right-wing Cuban exile lobby met in December,
Sen. Marco Rubio

Sen. Rick Scott

Rep. Mario Diaz-Balart,
...with Trump and Pence.
Trump then agreed that if Guaidó declared himself President he would back him.
For more in-depth information on Guaidó, I highly recommend the long-read article on the Gray Zone Project titled, "The Making of Juan Guaidó: How the US Regime Change Laboratory Created Venezuela's Coup Leader."

U.S. and Russia Pull Out of INF Treaty a Month after Russia Bombers Flew over Venezuela

Meanwhile, in other news, the U.S. has stated it will be pulling out of the INF Treaty with Russia.
This comes a month after Russia ran a drill flying two of its nuclear-capable strategic Tu-160 bombers over the Caribbean Sea and Venezuela during a 10-hour training mission, presumably in response to U.S. threats to withdraw from the treaty with Russia, WSBTV reported.
The U.S. claims the 9M729 cruise missile breaches the INF treaty.

Although, the U.S. previously announced it would give Russia 60 days, claiming that Russia has developed the new cruise missile in violation of the 1987 Intermediate-range Nuclear Forces (INF) Treaty that banned land-based nuclear missiles in Europe during the Cold War.
So, pulling out of the treaty is a two-pronged move:
one that sends a message to Venezuela

equally sends a message to Russia
Both are working together openly in combination with the socialist nation of Venezuela, which also has sanctions against it by the U.S. government.

Russia plans to build a base and a military presence presumably in response to the U.S. suggesting it will pull out of the INF treaty, in La Orchila, Venezuela according to TASS.

According to military envoys, Russian authorities have made a decision (and Venezuelan President Nicolas Maduro did not object) to deploy strategic aircraft to one of Venezuela's islands in the Caribbean Sea, which has a naval base and a military airfield.
Ten years ago, Russian experts and Armed Forces commanders had already visited the island of La Orchila, located 200 kilometers northeast of Caracas.
Venezuelan laws prohibit the setup of military bases in the country, but a temporary deployment of warplanes is possible.
"It is the right idea to include Venezuela in long-range aviation missions," military expert Colonel Shamil Gareyev told the newspaper, adding that it was also economically reasonable.

"Our strategic bombers will not only not have to return to Russia every time, but also won't perform aerial refueling while on a patrol mission in the Americas.

Our Tu-160 aircraft arrive to their base in Venezuela, conduct flights, execute their missions and are then replaced on a rotating basis. This is how it should be done," he said.
Colonel Eduard Rodyukov, a Corresponding Member of the Academy of Military Sciences, in turn, told Nezavisimaya Gazeta that,
"the arrival of Russia's Tu-160 strategic bombers to Central America is kind of a signal to Trump to make him realize that abandoning nuclear disarmament treaties will have a boomerang effect."
U.S. Secretary of State Mike Pompeo responded by stating in an angry rant that the drills were a waste of public funds.
"Russia's government has sent bombers halfway around the world to Venezuela," Pompeo said on Twitter.

"The Russian and Venezuelan people should see this for what it is: two corrupt governments squandering public funds, and squelching liberty and freedom while their people suffer."
In response to the U.S. pulling out of the INF treaty, Russia followed suit one day later in what many are deeming a race to acquire new weapons, or Cold War 2.0.

Russia's president Vladimir Putin issued a televised statement threatening the U.S. by stating that,
"Russia would build weapons previously banned under the treaty and would no longer initiate talks with the United States on any matters related to nuclear arms control."
However, the country stated they would not deploy those weapons unless America did first.
"I would like to draw your attention to the fact that we must not and will not let ourselves be drawn into an expensive arms race," Putin told Russian ministers.

"Money to build the new missiles," he added, "will come from the existing defense budget."

"Our response will be symmetrical. Our American partners announced that they are suspending their participation in the I.N.F. Treaty, and we are suspending it too.

They said that they are engaged in research, development and design work, and we will do the same," Putin said.
It's also further worth noting that Putin recently stated that the threat of nuclear war should not be underestimated as tensions have risen between NATO countries and Russia within the past few months.
Putin added that U.S. withdrawal from the treaty could spur "global catastrophe" and that he hopes "common sense will prevail." (This was before the U.S. pulled out of the INF treaty.)

Russia appears to be making preparations for potential war.
In April earlier this year, a Russian state-owned television station warned that some Americans are preparing for a coming war with Moscow, explaining to the country's residents how to stock their bunkers with water and basic necessities in case a war breaks out.

This is visibly seen by Russia suggesting that it will build bases in the Caribbean and build up its existing Arctic strongholds.
"We'll finish building infrastructure in 2019 to accommodate air defense radar units and aviation guidance points on the Sredny and Wrangel Islands, and on Cape Schmidt" in the Russian Arctic, Defense Minister Sergei Shoigu said according to France 24.
In October, President Trump cited China's potential expansion as a reason the United States should consider quitting the INF treaty.
"If Russia's doing it and if China's doing it, and we're adhering to the agreement, that's unacceptable," Trump said after a rally in Nevada.
Meanwhile, China has called for a calm between Russia and the U.S. taking a role of easing relations urging the two nations for constructive dialogue.
"This treaty plays a significant role in easing major-country relations, promoting international and regional peace, and safeguarding global strategic balance and stability," Geng Shuang, a spokesman for the Chinese Ministry of Foreign Affairs, said in a statement on the ministry's website.

"China is opposed to the U.S. withdrawal and urges the U.S. and Russia to properly resolve differences through constructive dialogue."

"China opposes the multilateralization of this treaty. What is imperative at the moment is to uphold and implement the existing treaty instead of creating a new one."
Those war drums keep beating louder and louder with no signs of slowing down that growing rhythm, which if we aren't careful could lead to a "global catastrophe."
As for Venezuela, it's up to the will of the people:
hate or love Maduro it's not my fight or yours, it's theirs.
But one thing is for sure:
a person who proclaims himself to be president without a single vote from the people and has an extensive history of involvement with regime change trainers shouldn't be president...

That's certainly not a healthy part of democracy...