September 11, 2012
from OccupyCorporatism Website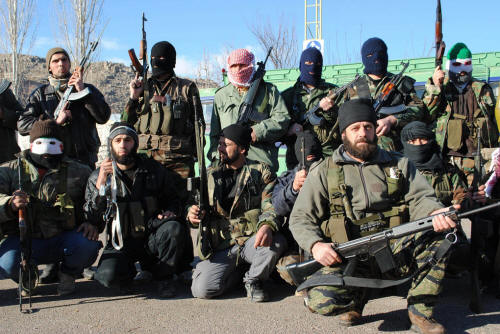 Lakhdar Brahimi, member of the UN Arab League envoy, will speak with the Syrian government.
Brahimi stated in Cairo:
"I answer to no one except the Syrian people. Syrians aspire to peace, stability and to realizing their goals of freedom and political progress."
Brahimi who is a representative from Mohammed Morsi's presidential cabinet and member of the Muslim Brotherhood is replacing former U.N. Secretary-General Kofi Annan to broker a deal with Assad.
UN Secretary-General Ban Ki-moon verbalized his support for the CIA-sponsored Free Syrian Army; the manufactured terrorist group facilitating a proxy war in Syria on behalf of the US and Israel.
At the UN Human Rights Council in Geneva, Ki-moon stated that he is "concerned" about the unsubstantiated accounts of Syrian government attacks on citizens. He believes that by purveying the lies and propaganda surrounding this created conflict, that they will be given legitimate review by the United Nations delegates.
Ki-moon said:
"All of this complicates our efforts to facilitate a transition and promote the peace the Syrian people deserve. I encourage this council to maintain its vigilance on Syria, including on the question of accountability."
Hillary Clinton, US Secretary of State, threatened that the US and "like-mined states" will circumvent the UN's pursuits of diplomacy in Syria for the sake of forcing a "regime change".
Clinton said that Russia's lack of support for the US and Israeli schemes in Syria and Iran are unacceptable.
Clinton affirmed that the UN resolutions are ineffective,
"because we've seen time and time again that Assad will ignore it and keep attacking his own people."
Of course, the evidence shows that the Free Syrian Army is instrumental in all the violent attacks against Syrian civilians; however Clinton coercively continues to purvey US-controlled propaganda.
Sergey Lavrov, Russian Foreign Minister said that,
"[Russia] won't support sanctions [against Syria] because they lead to nothing. What Syria needs is all external players use their influence to put all Syrians behind the negotiation table."
Here in the US Senator John McCain has publicly admonished the Obama administration for not killing more Muslims. According to McCain, the death toll in Libya should be a template for Obama.
McCain commented:
"The election is about jobs and the economy, but a failed... national security policy over time is going to lead to significant domestic problems."
McCain continued:
"It's the job of presidents and candidates to lead and articulate their vision for America's role in the world.

The world is a more dangerous place than it's been since the end of the Cold War, and so I think the president should lead and I think candidates for the presidency should lead and talk about it, and I'm disappointed that there hasn't been more."
As the Syrian conflict becomes a precursor for Iran, a favored target of the Zionist-controlled Israeli government, Guido Westerwelle, the German Foreign Minister has implored the Iranian government to continue international talks concerning their nuclear program.
Westerwelle said:
"We stand together with Israel which means of course that we share also the concern about the Iranian nuclear program. For us, any kind of nuclear option weapons in the hands of the Iranian government is not acceptable. For us nuclear arms in the hands of the Iranian government are not an optional we will not accept this."
Benjamin Netanyahu, Israeli Prime Minister, retorted that,
"the Islamic Republic to be nuclear armed is not an option."
Iran has given the UN International Atomic Energy Agency (IAEA) permission (after being pressured) access to inspect the Parchin military facility where there are alleged nuclear weapons.
Yukiya Amano, head of the IAEA, believes that Iran owes the UN an explanation for their endeavors to build a nuclear power plant.
Amano stated:
"Iran has the obligation to fully cooperate with us."
Netanyahu, without proof, continues to decry Iran is building a nuclear weapon and is gaining support from European allies such as Britain, France and Germany as well as Canada.
Last week, the Canadian government closed their embassy in Iran.
John Baird, Canadian Foreign Minister, explained in a statement that Iran is,
"the most significant threat to global peace and security in the world today".
Canadian officials warned Canadian citizens not to travel to Iran. Those who have Canadian citizenship with Iranian nationality are using propaganda to claim that the Iranian government will become enraged by "dual nationality".
The Center for Strategic & International Studies , a Washington DC-based globalist think-tank, has supposed what a US military strike against Iran's nuclear facilities would look like.