November 29, 2011
from EndOfTheAmericanDream Website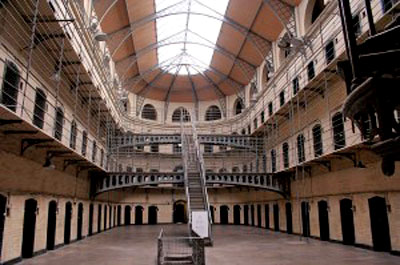 If you live in the United States of America, you live in a giant prison where liberty and freedom are slowly being strangled to death.
In this country, the control freaks that run things are obsessed with watching, tracking, monitoring and recording virtually everything that we do.
Nothing is private anymore. Everything that you do on the Internet is being monitored. All of your phone calls are being monitored. In fact, if law enforcement authorities suspect that you have done something wrong, they will use your cell phone microphone to listen to you even when you think your cell phone is turned off.
In many areas of the country, when you get into your car automated license plate readers track you wherever you go, and in many major cities when you are walking on the streets a vast network of security cameras and "smart street lights" are constantly watching you and listening to whatever you say.
The TSA is setting up "internal checkpoints" all over the nation, Homeland Security is encouraging all of us to report any "suspicious activity" that our neighbors are involved in and the federal government is rapidly developing "pre-crime" technology that will flag us as "potential terrorists" if we display any signs of nervousness.
If you are flagged as a "potential terrorist", the U.S. military can arrest you and detain you for the rest of your life without ever having to charge you with anything. Yes, the United States of America is rapidly being turned into a "Big Brother" prison grid, and most Americans are happily going along with it.

The sad thing is that this used to be "the land of the free and the home of the brave".

So what in the world happened?

A fundamental shift in our culture has taken place. The American people have eagerly given up huge chunks of liberty and freedom in exchange for vague promises of increased security.

Our country is now run by total control freaks and paranoia has become standard operating procedure.

We were told that the terrorists hate our liberties and our freedoms, and that we needed to fight the terrorists so that we could keep our liberties and our freedoms.

But instead, the government keeps taking away all of our liberties and our freedoms.
As a country, we have moved so far in the direction of communist China, the USSR and Nazi Germany that it is almost impossible to believe.

Yes, turning the United States of America into a giant prison may make us all slightly safer,
But what kind of life is this?

Do we want to be dead while we are still alive?

Is this the price that we want to pay in order to feel slightly safer?

Where are the millions of Americans that still yearn to breathe free air?
America is supposed to be a land teeming with people thirsting for independence.
For example, "Live Free or Die" is supposedly the official motto of the state of New Hampshire. But instead, the motto of most Americans seems to be "live scared and die cowering".

We don't have to live like this. Yes, bad things are always going to happen. No amount of security is ever going to be able to keep us 100% safe. We need to remember that a very high price was paid for our liberty and we should not give it up so easily.

As one very famous American once said, when we give up liberty for security we deserve neither.

The following are 30 signs that the United States of America is being turned into a giant prison...
To read about some of the crazy things that the control freaks running things have planned for the future, just check out this article: "10 outlandish things the 'scientific' controllers have in mind for you in the near future".

Once again, despite all of this outrageous "security", it is inevitable that a lot of really bad things are going to happen in the United States in the years ahead.

When there are incidents of violence, it is also inevitable that there will be calls for even more "Big Brother" security measures. We are going to be caught in a never ending spiral of tyranny where the "solution" is always even tighter security.

Eventually, we will have lost all of our liberties and freedoms, and we will probably be even less safe than we are today.

Do not be deceived. We could put a soldier on every corner, a video camera in every room of every home and an RFID chip in every citizen but that would not make us "safe".

Every single lawmaker that is backing these laws which strip our liberties and freedoms away deserves to be voted out of office.
If you love the United States of America, please stand up and say something while you still can.

Please use this article and other articles like it as tools. Share them with your friends and your family. If we can get enough people to wake up, perhaps there is still enough time to turn the direction of this country around.
Will the final chapters of the history of the United States of America be mentioned in the same breath as communist China, the USSR and Nazi Germany, or will the final chapters of the history of the United States of America be the greatest chapters of all?
The choice, America, is up to you.