por Brandon Smith
20 Febrero 2013
del Sitio Web Alt-Market
traducción de Adela Kaufmann
Versión original en ingles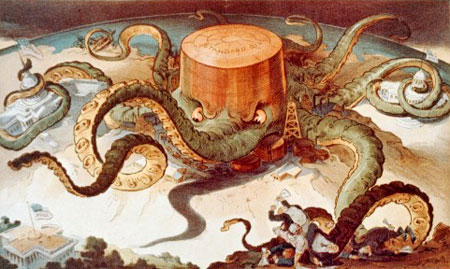 El primer error peligroso que la persona promedio hace es la suposición de que "el mal" es una especie de concepto subjetivo o "gris".
Nos gustaría creer que todo comportamiento destructivo y malicioso no es más que un producto de un ambiente malo, mala educación, o psicosis mental. Desviación en el nombre equivocado de "ganancia" o "status" a menudo es más aceptable para el público, siempre y cuando exista una razón podamos fácilmente entender y comprender.
Lo que asusta al americano promedio hoy en día no es la acción abominable de la criminalidad, sino que es la criminalidad sin razón fácilmente definible.
Lo que asusta al ciudadano común la posibilidad de que algunas personas hieran a otras, porque mamá y papá los "maltrataban", o porque tienen una deficiencia psicológica que nubla su juicio, sino porque plena y conscientemente DISFRUTAN haciendo lo que hacen.
Nuestra sociedad está desesperada por poner excusas para los monstruos de nuestra era, tal vez porque prefieren no entretener la posibilidad de que hay un lado oscuro de la humanidad en su conjunto, que si no se controla, podría tomar el control de una manera deliberada y calculada.

Por ello, los mayores crímenes de nuestro tiempo son a menudo ignorados por el público. La idea, por ejemplo, que los financieros internacionales y las elites políticas a propósito crearían disparidad económica, caos social, guerra mundial a partir del deseo del poder centralizado y un sentido alterado de superioridad es simplemente demasiado para muchos de manejar.
Sin duda, estos acontecimientos terribles en toda nuestra historia moderna son simplemente el resultado de una coincidencia al azar y el error humano... ¿verdad?

Desafortunadamente, este no es el caso.
De hecho, la mayoría de las catastróficas políticas culturales y tragedias pueden remontarse directamente de nuevo a un grupo particular de personas, que utilizan sus posiciones de influencia para el mal propósito, ya sabiendas crean calamidades, no sólo en beneficio propio, sino para ganancia de su "clase social".

En el Movimiento de la Libertad, a menudo nos referimos a este grupo como "globalistas" o "elitistas".
Ellos impregnan las altas esferas de nuestra nación, y que de hecho tienen una cultura que es totalmente independiente y dispar de la nuestra. Si uno estudia su literatura, sus iniciativas y sus motivos, descubriría otro mundo, impulsado por metas extravagantes y una marca aún más extravagante de fervor religioso.
Éstos son algunos de los rasgos de carácter y las creencias que hacen a estas personas fáciles de identificar...
Xeno-fascismo

Los Elitistas globales tienden a verse a sí mismos como una raza aparte del ser humano, una clase superior con facultades superiores, y así, nacidos para "gobernar" sobre el resto de nosotros. En sus escritos, a menudo adoptan las enseñanzas de la República de Platón, y el concepto de los "Reyes Filósofos".
Ellos creen que algunos hombres y mujeres que están dotados de una predisposición genética para el liderazgo, y que la persona promedio no tiene la inteligencia para determinar su propio destino. Ellos ven al resto de la humanidad como un lienzo en blanco, y a ellos mismos como los artistas. Debemos ser "moldeados" y nuestras dicotomías sociales deben ser manipuladas.

En realidad, no son más inteligentes que el resto de nosotros.
Por el contrario, ellos heredan posiciones de riqueza e influencia, y automáticamente asumen que esto los hace superiores.
Su capacidad para moldear la sociedad se deriva enteramente de su extenso capital y su total falta de moralidad. Si ellos no estuvieran en la parte superior del 0,1% de los ricos del mundo, serían tratados como delincuentes comunes por su conducta, pero por desgracia, en nuestra época, el dinero compra a menudo un indebido respeto.
Imagine un club privado de John Wayne Gacys o Charles Manson, excepto con el 80% de la riqueza del mundo a su disposición y los medios para comprar una buena publicidad e inmunidad legal.
Eso es esencialmente con lo que estamos tratando...
"Gradualmente, mediante la cría selectiva, las diferencias congénitas entre gobernantes y gobernados se incrementarán hasta que se conviertan en especies casi diferentes. Una rebelión de la plebe se convertiría en tan inconcebible como una insurrección organizada de ovejas contra la práctica de comer carne de cordero".
- Bertrand Russell

El Impacto de la Ciencia en la Sociedad (1953) págs. 49-50

"Hablando de un futuro de sólo unos decenios, un experimentador en el control de inteligencia afirmó:"Preveo un tiempo en el que dispondremos de los medios y, por tanto, inevitablemente, a tentación de manipular el comportamiento y el funcionamiento intelectual de todas las personas a través de la manipulación del medio ambiente y la bioquímica del cerebro. "

Between Two Ages - America's Role in the Technetronic Era - 1970

Búsqueda de la Conciencia Cero

Los elitistas que creen que la conciencia es un obstáculo para el éxito, en lugar de una virtud que vale la pena.
A sabiendas y deliberadamente abandonan su brújula moral porque lo ven como una restricción artificial, un obstáculo que hace que les hace más difícil de conseguir lo que quieren. La conciencia, sin embargo, nunca desaparece completamente en nadie.
Con el fin de conciliar la mentalidad miserable con esa distante y molesta sensación de culpa, dicen que sus acciones son,
"Por el bien de la mayoría".
Ellos desesperadamente quieren creer que están sirviendo al futuro de la humanidad, y que debemos "apreciar" su mano que guía, a pesar de que las cosas que hacen parecen mucho más odiosas que útiles.
Ellos se dignan a llamar a esto "amor duro".

Asimismo, tratan de evitar el hecho de su propia disfunción, tratando de provocar criminalidad en otros. Si pueden convencer a las masas de que la moralidad es "relativa", y que el bien y el mal están sujetos a "interpretación", si pueden convencernos a que ignoremos nuestras propias voces interiores que son innatas, entonces su monstruosidad eventualmente podría considerarse normal, incluso preferible.
Porque en un mundo de relativismo moral, el hombre con conciencia se convierte en el criminal, el marginado, y las elites se convierten en los héroes que siempre quisieron creer que son.

Mientras tanto, a menudo se recurre a la fantasía y teatro, envolviéndose en un sistema de creencias y jugando el papel del "santo".
La máscara rara vez sale hasta que crean que su posición de poder está asegurada.
"Ahora soy un católico como antes y siempre lo seguiré siendo."
- Adolf Hitler

"¿De verdad creen que las masas serán cristianas de nuevo? ¡Tonterías! Nunca más. Esa historia ha terminado. Nadie va a escuchar de nuevo. Sin embargo, podemos acelerar las cosas. Los predicadores cavan sus propias tumbas. Ellos traicionan a su Dios a nosotros. Ellos traicionan cualquier cosa por el bien de sus miserables puestos de trabajo e ingresos... "
- Adolf Hitler


"La décima regla de la ética de las normas y los medios es que se hace lo que puede con lo que se tiene y se reviste con argumentos morales... la esencia de los discursos de Lenin durante este período era,

'Ellos tienen las armas y por lo tanto, estamos a favor de la paz y de la reforma a través de las urnas. Cuando tengamos las armas, entonces será a través de la bala.'

Y así fue."
- Saul Alinsky

(Barack Obama enseñó la filosofía amoral de Alinsky como organizador en Chicago. Hillary Clinton hizo de Alinsky el tema de su tesis de licenciatura)



Promover el Colectivismo

Los principales globalistas no son necesariamente los propios colectivistas.
De hecho, a menudo pivotear lejos hasta el otro extremo del espectro en una forma aberrante de individualismo. Como se mencionó anteriormente, pueden incluso ver la conciencia como una restricción de su libertad personal, y se rebelan contra ella como si se rebelasen contra la esclavitud.
Lo que no entienden es que la naturaleza inherente de la conciencia es un don, uno que hasta ahora ha mantenido a la humanidad lejos del borde de la destrucción total de sí misma, al menos en este punto. No es una prisión. Más bien, es la protección de nosotros mismos.

El ideal de una locura elitista de "individualismo puro", sin auto-disciplina es un asunto privado que rara vez se discute. En público, constantemente promueve el estilo de vida colectivista y amonestan el individualismo en la gente común como "egoísta" o "narcisista".


La gente suele confundir el "colectivismo" con "comunidad".
Esto es causado por una falta de comprensión, así como una falta de experiencia.
La comunidad es una reunión voluntaria de personas con fines de ayuda mutua.

El Colectivismo es la reunión de las personas mediante la amenaza de la fuerza o la pérdida, con el propósito de consolidar el poder en manos de unos pocos. Es el acto de destruir el individualismo en nombre de la "protección de grupo".
En Estados Unidos hoy, tenemos un sentido real de comunidad desapareciendo, mientras que las "ventajas" del colectivismo son cantadas a los cuatro vientos por las elites globales.

Si la población puede estar convencida de que estén desprovistos de cualidades intrínsecas y características, y que su entorno es la totalidad de su existencia, entonces van a entregar todo el poder a cualquiera que les prometa los mejores entornos posibles.
Es decir, cuando no tenemos fe en nuestro propio individualismo y auto-responsabilidad, automáticamente buscamos protección, por lo general de un gobierno niñera o dictadura.
Este proceso de autodeterminación desgarrador de la población tiene un objetivo final definitivo: Gobernanza Mundial y dominio total.
Los poderes del capitalismo financiero tenían otro objetivo de largo alcance, nada menos que crear un sistema mundial de control financiero en manos privadas capaz de dominar el sistema político de cada país y la economía del mundo como un todo.
Este sistema sería controlado de manera feudal por los bancos centrales del mundo actuando en concierto, mediante acuerdos secretos alcanzados en frecuentes reuniones y conferencias.
El ápice de los sistemas habría de ser el Banco de Pagos Internacionales en Basilea, Suiza, un banco de propiedad privada y controlado por los bancos centrales del mundo que eran ellos mismos corporaciones privadas.
Cada banco central... trataba de dominar su gobierno por su capacidad para controlar los préstamos del Tesoro, manipular bolsas extranjeras, influir en el nivel de actividad económica en el país, e influir en los políticos cooperativos mediante ulteriores recompensas económicas en el mundo de los negocios.
- Carroll Quigley

CFR miembro, mentor de Bill Clinton, de " Tragedy And Hope "

"En el próximo siglo, las naciones tal como las conocemos serán obsoletas, todos los estados reconocerán una autoridad única y global La soberanía nacional no era tan buena idea después de todo.".
- Strobe Talbot

Secretario Adjunto del Presidente Clinton de Estado, citado en Time, 20 de Julio de 1992.
La "Noble Mentira"

Los elitistas son muy firmes sobre la idea de la "mentira noble", el uso de la mentira para alcanzar un "objetivo positivo".
En su opinión, los ciudadanos comunes no tienen capacidad para comprender el panorama político y social, y por lo tanto, debemos estar mintiéndonos para obligarnos a hacer lo que es mejor para nosotros mismos. Por supuesto, su versión de lo que es mejor para nuestra cultura siempre parece incluir, ante todo, lo que es mejor para ellos.

La mentira noble es una falacia lógica de proporciones épicas, y muchas veces me pregunto si los elitistas globales secretamente dudan de su legitimidad, o si realmente compran en su propia basura. Si tiene que mentir a la gente con el fin de conseguir que se acepten sus ideas, entonces debe haber algo terriblemente mal con sus ideas.
Ideas con vitalidad y honestidad no necesitan ser "vendidas" al público a través de engaños, la verdad adquiere una vida propia.
Sólo las filosofías destructivas necesitan una base de mentiras con el fin de echar raíces.
"Estamos en la actualidad trabajando discretamente con todas nuestras fuerzas para arrebatar esa fuerza misteriosa llamada soberanía de las garras de los estados nacionales locales del mundo. Todo el tiempo estamos negando con nuestros labios lo que estamos haciendo con nuestras manos."
- Profesor Arnold Toynbee

en un discurso antes de junio 1931 el Instituto para el Estudio de Asuntos Internacionales en Copenhague.


"Nuestro trabajo es dar a la gente, no lo que ellos quieren, sino lo que decidimos que deben tener."
- Richard Salent

ex presidente de CBS News, Bill Clinton: Amigo o Enemigo


Reducción de la Población

Una de las piezas centrales de la religión globalista es el concepto de reducción de la población.
No sólo se ven como una especie separada con un maquillaje genético superior y una propensión a la gobernación, también ven al resto de nosotros como cucarachas y "comedores inútiles", un rebaño que necesita ser "sacrificado". Lo más gracioso de los reduccionistas de la población es que siempre quieren que otras personas mueran para salvar el planeta.
Nunca ofrecen su propia vida como sacrificio por el "bien mayor". Esto es porque ellos asumen que son "muy importantes" (aparentemente porque piensan que son inteligentes), mientras que muchos de nosotros somos "prescindibles".

Por supuesto, hoy en día la sobrepoblación es un mito sobrevendido que ha sido desacreditado en muchos círculos científicos. La expansión de la población tampoco es necesariamente una mala cosa. Una mayor población significa más mentes que trabajan en más problemas. Se impulsa el avance tecnológico y nos fuerza a través del imperativo de supervivencia para inventar métodos más eficientes de producción.
De hecho, existen ventajas para el crecimiento.

Al final, sin embargo, las elites globales no se preocupan por la Tierra. Ellos no creen en la reducción de la población porque quieren reducir la contaminación, nuestra así llamada "huella de carbono", salvar a los pobre animales en peligro de extinción, o incluso para proteger los recursos naturales.
Quieren reducción de la población porque primero, son eugenistas que ven a algunas personas como genéticamente inferiores a otras, y segundo, porque una población sacrificada es más fácil de dominar.
Una vez más, menos mentes trabajando significa menos problemas resueltos, y menos personas moviendo el bote cuando el estado abusa del poder.
"Una población mundial de un total de 250-300 millones de personas, una disminución del 95% respecto a los niveles actuales, sería lo ideal."
- revista Audubon, entrevista con Ted Turner, 1996


"Un programa de esterilización de las mujeres después de su segundo o tercer hijo, a pesar de la dificultad relativamente mayor de la operación comparada con la vasectomía, podría ser más fácil de implementar que tratar de esterilizar a los hombres ...

El desarrollo de una cápsula a largo plazo de esterilización que puede ser implantada bajo la piel y ser retirada cuando se desea el embarazo abre posibilidades adicionales para el control de la fertilidad coercitiva.

La cápsula puede ser implantada en la pubertad y podría ser extraíble, con permiso oficial, para un número limitado de nacimientos."
- John P. Holdren

(Asesor científico del Gobierno de Barack Obama)


"De todo el espectro de la personalidad humana, una cuarta parte está eligiendo trascender... Una cuarta parte está lista para elegir así que, siguiendo el ejemplo de otro... La cuarta parte es resistente a la elección.

No están atraídos por la vida en constante evolución. Una cuarta parte es destructiva. Nacen enojados con Dios... Son semillas defectuosas... Siempre ha habido semillas defectuosas.

En el pasado se les permitía morir de una "muerte natural"... Nosotros, los ancianos, Hemos estado esperando pacientemente hasta el último momento antes de la transformación cuántica, para tomar medidas para cortar esta corrompido y corruptor elemento en el cuerpo de la humanidad. Es como ver crecer un cáncer...

Ahora, a medida que nos acercamos al enorme cambio de la criatura humana a co-creador humano - el ser humano que es heredero de poderes divinos - esa destructiva cuarta parte debe ser eliminada del cuerpo social. No tenemos otra opción, queridos míos.

Afortunadamente, amados míos, ustedes no son responsables de este hecho, nosotros lo somos.

Nos encargamos del proceso de la elección de Dios para el planeta Tierra. Él selecciona, nosotros destruimos. Somos los jinetes del caballo pálido, la Muerte. Hemos venido a traer la muerte a aquellos que no pueden conocer a Dios... Los jinetes del caballo pálido están a punto de pasar entre ustedes.

Los grises cosechadores que separarán el trigo de la paja.

Este es el período más doloroso en la historia de la humanidad ... "
- Futurista Barbara Marx Hubbard

(Que aparece en la película "THRIVE", una pieza de propaganda colectivista falsamente presentada como un ataque contra el establecimiento elitista ... en otras palabras, oposición controlada)

La fuente de nuestro dolor

Ahora, los globalistas no son la única fuente de nuestro dolor social.
Nosotros cargamos con cierta responsabilidad. Cuando no estamos atentos, cuando negamos nuestra propia ignorancia y nos negamos a aprender, cuando nos mentimos a nosotros mismos, cuando atendemos a los deseos personales superficiales en lugar de tomar en cuenta el futuro, abrimos la puerta para al diablo, por así decirlo.
El mal, como la conciencia, reside en todos nosotros.

Dicho esto, los globalistas no son personas terribles en un sentido aleatorio. Ellos han construido toda una cultura de desviación. Están organizados malignamente, y este es un problema que debemos enfrentar en breve.
Los hombres buenos se definen, no sólo por su adhesión a la voz interior de la verdad, sino también por su voluntad de actuar cuando la verdad se ve amenazada.
Debemos educar a otros, y cuando llegue el momento, nos pondremos en peligro a quitar la calaña globalista, antes de que destruyan todo en un furioso fervor elitista...