by Benjamin Freed
July 27, 2018
from StateScoop Website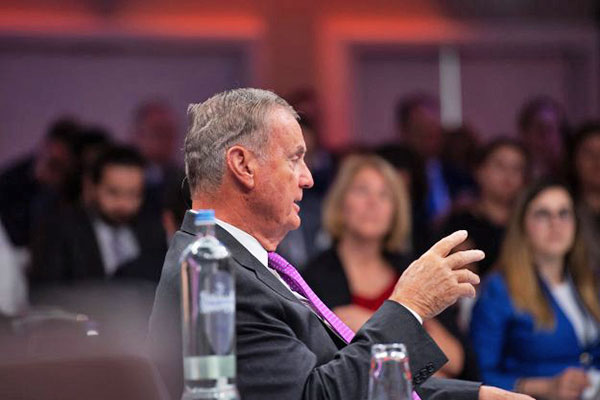 Retired Marine General James L. Jones
(NATO / Flickr)



Former NATO Supreme Allied Commander James L. Jones
and retired Air Force Major General Robert Wheeler
were both optimistic that
the next wave of wireless technology
will be the "safest"...


Gen. James Jones is a member of the Trilateral Commission and was President Obama's first National Security Advisor (NSA).

He never used computers at the White House because they were not secure, but for us, 'somehow' 5G is going to be secure as it lights up Smart Cities and autonomous driving?

Consider the source:

the Trilateral Commission has been the primary actor in pushing modern Technocracy since its inception in 1973.
5G technology will be the backbone of smart cities
...as long as it's secured, retired generals say

The fifth generation of wireless technology has the potential to upend the way cities work, but it'll all be for naught if 5G networks can't be properly secured, James L. Jones, a former U.S. national security adviser, said Thursday.
"I think we're involved in a very serious race that'll affect who we are as a nation for the rest of the century,"
...Jones, a retired Marine general and former NATO supreme allied commander who served as President Barack Obama's first national security adviser, said at a smart-cities conference hosted by the law firm Dentons.
"4G" - the current wireless standard - "was a revolutionary technology that enabled things like smartphones and GPS, but 5G is disruptive."
But the new networks will only be as strong as their cyber-security, Jones said.
"For all the good things we might think about in smart cities, there will be threats we have to deal with," he said. "We have to win, because our ability to win will affect data and security."
Specifically, Jones, who now runs a private consulting firm, said he focuses on inside threats, telling his clients to run more regular background checks on employees and to be wary of behavior that triggers major cyber-attacks, such as one in Atlanta this year that began when a city employee opened a phishing link in an email that unleashed a ransom-ware virus.
"When I was in the White House I never used the White House computer," he told StateScoop.

"I never used my own computer. I did everything by a secure phone or hand-delivered letters. Our networks are vulnerable."
While most city computer networks or consumer-facing wireless networks aren't going to have the same layers of security as the National Security Council, Jones sounded an optimistic note about the technology.
"The good news is that when we get to 5G, [wireless networks] will be almost invulnerable," he said.
Telecommunications companies are starting to test 5G technology in a number of U.S. cities, and some states, including Illinois, have adopted legislation making it easier for wireless carriers to install the small cells that will power eventual 5G networks designed to support the next generation of smartphones and other Internet-connected devices.

The telecom industry has said 5G devices will be manufactured with encryption that uses their providers' public keys, though similar promises about previous generations of wireless technology did not prevent successful cyber-attacks.

But 5G will be the platform on which local governments' "smart city" dreams rest, said Robert Wheeler, a retired Air Force major general and Jones's fellow panelist.
"If you think about 5G and the 'Internet of things,' you think about the backbone of critical infrastructure and how a smart city will run," Wheeler said.
As an example Wheeler named Volvo's XC90 sport-utility vehicle, which is often used by companies developing autonomous vehicles.
The cars, he noted, are manufactured with 17 motion sensors that help drivers navigate traffic jams and tight parking jobs. But on an autonomous vehicle, Wheeler said the latency on a 4G network is too high for those sensors to prevent a crash in time.
(The Volvo involved in a March collision in which an Uber autonomous vehicle fatally struck a pedestrian in Arizona had had its factory-installed safety settings deactivated.)

5G has theoretical speeds surpassing 1 gigabits per second - about 100 times the average of a 4G connection that transfers 10 megabits per second.
The next generation networks' latency will also be low enough to make self-driving cars respond quickly enough to prevent accidents, Wheeler said.
"With 5G, you can enable those sensors," he said.
But autonomous vehicles and all those other new devices that connect to the Internet will have to be safeguarded against cyber-threats.
Like Jones, Wheeler was optimistic, though unspecific, that 5G will have better cyber-security than its predecessors.
"The secure 5G aspect lays the groundwork for smart cities," he said. "If you lay a secure 5G nationwide network, I believe the rest will come."