by RAIR Foundation
October 03, 2021
from RAIRFoundation Website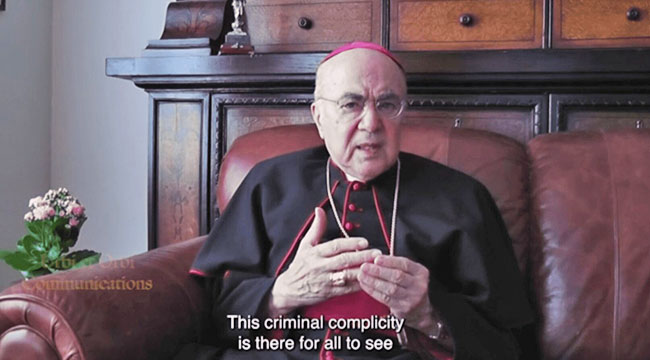 The pope "is not a neutral spectator", says Archbishop Carlo Maria Viganò.

Rather, he is a "zealous cooperator"...
Pope Francis is an active participant in a powerful globalist plot, asserts Archbishop Carlo Maria Viganò in an interview with Robert Moynihan, founder, and editor-in-chief of Inside the Vatican magazine.

The "Great Reset" and "Fourth Industrial Revolution", as conceived by Klaus Schwab of the World Economic Forum, is an insidious attempt to drastically,
...as reported at RAIR Foundation USA.
The pope, born Jorge Mario Bergoglio, is "not a neutral spectator" in the globalist plot, declares the Italian archbishop.
Rather, he is a "zealous cooperator"...
But sadly, the World Economic Forum is not the only insidious organization, the bishop explains.

He says in part:
It matters little whether the cooperators of this plan are pharmaceutical companies or high finance, philanthropic organizations or Masonic sects, political factions or corrupt media: all of them, aware of it or not, collaborate in the work of the Devil (evil)...
The entire interview is transcribed here.

Watch the entire interview here below:

- The Complete Interview -
by Archivist 21
September 30, 2021.
from Bitchute Website

Carlo Maria Viganò (born 16 January 1941) is an archbishop of the Catholic Church who served as the Apostolic Nuncio to the United States from 2011 to 2016.

He previously served as Secretary-General of the Governorate of Vatican City State from 2009 to 2011.

He is best known for having exposed two major Vatican scandals.

Dr. Robert Moynihan is founder and editor of Inside the Vatican magazine https://insidethevatican.com/ a monthly journal on Church and world affairs from Rome.

He is regarded as one of the world's leading Vatican analysts.

He received his Ph.D. in medieval studies from Yale University and divides his time between Rome and his home in the U.S.