by Hopi Waters
September 19, 2014
from ZenGardner Website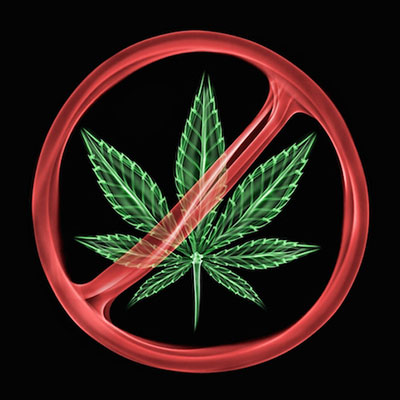 It started out simply enough a few months back; I wanted to get a vial of cannabis oil to treat a recurring melanoma from 60+ years of working out in the sun.
As I stated in a previous article, in making phone calls to some of the more prominent dispensaries in Denver, the counter help I spoke with weren't knowledgeable on what cannabis oil was - only referring to hemp seed oil, and going on to say even that was scarce enough to only be available to card holders (but they said I could get it on Amazon).
So I began my journey through the same pattern of dysfunction that renders anything useful and a potential game changer mired in bureaucratic bullshit and shadowy control.
In July the Daily Beast published the article Why Did America's Only Pot Researcher Suddenly Get Fired?
After years of trying, Dr. Sue Sisley got approval for a groundbreaking study of marijuana as a treatment for PTSD. Three months later, she was out of a job.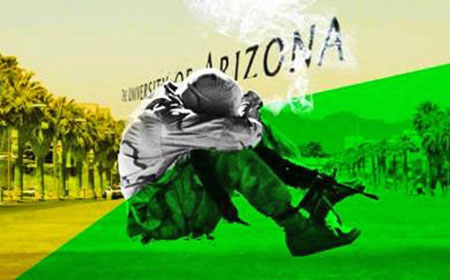 In April 2014, University of Arizona assistant professor Dr. Sue Sisley made headlines after winning federal approval to test marijuana on veterans suffering from PTSD.
That made her the only academic in America to get a government go-ahead for cannabis research - and one of just 15 people to get such approval in the last two decades. The occasion hailed not only as a historic shift in public policy for the marijuana community but a huge victory for the 21.2 million veterans living in the U.S. today.
Three months later, it's turned to defeat.
Terminated from the University of Arizona last week, Sisley is now both jobless and moneyless - stripped of the institution, people, and funding on which her study hinged. America's only federal-approved academic marijuana researcher just got the floor pulled out from under her.
Last week Beitbart published the article… 'Mysterious, Heavily-Armed Men' Drop from Helicopters to Destroy Marijuana Fields:
According to CBS San Francisco's KPIX, one of the groups conducting such raids is private security contractor LEAR Asset Protection and Management. A LEAR spokesman acknowledged the group had conducted similar raids in Mendocino County over the last year.
However, medical marijuana grower Susan Schindler told KPIX that a group of men who used helicopters to raid her field last month refused to identify themselves.
"There was no paperwork, there were no copies of any warrants, there were no inventories left of what they took," Schindler said.
Schindler also said she is following all county regulations regarding her grow site, and that the field of marijuana she was growing had no street value.
"The irony is that this whole garden that was destroyed was not a garden that would get you high," she told KPIX.
How did the Mendocino County Sheriff respond?…
"I think there are some people who may become paranoid this time of year," he said.
I was unable to reach the Stanley brothers in Colorado for comment, but one has to wonder if these same black helicopter boys (mercenaries for hire) will drop down on the 17-acres of low-THC cannabis they are attempting to grow outdoors that will enable them to supply the 5,000 patients that have applied to their Realm of Caring Foundation for cannabis oil.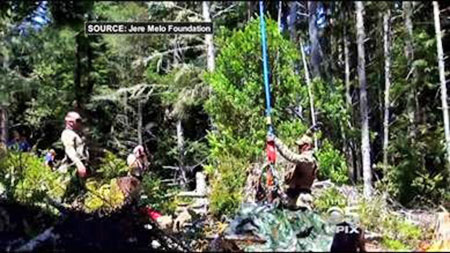 With this level of controlled dysfunction, I smelled a rat - and the rat's name I suspected was Rothschild.
But where is the Rothschild signature?
The name G.W. Pharmaceuticals kept coming up in documentaries, with Dr. Sanjay Gupta shown touring one of their football size greenhouses in his CNN documentary Weed 2.
In 2011, The Observer (UK) featured an article on GW titled The man who secretly (and legally) grows 20 tonnes of cannabis a year.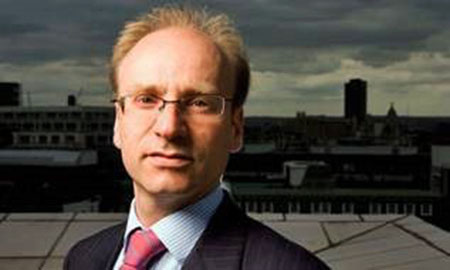 Justin Gover:
'It's not just street cannabis put into a bottle… we had to meet very strict standards.'
Photograph: Richard Saker for the Observer
"Britain's only legal dope dealer looks quite ordinary. Bespectacled and wearing a dark grey suit, GW Pharmaceuticals' boss Justin Gover bears a closer resemblance to a City banker than someone who grows 20 tonnes of cannabis every year…"
Looking at the GW Pharmaceuticals website, the overview of the company states…
"GW Pharmaceuticals was founded in 1998 and is listed on both the NASDAQ Global Market (GWPH) and AIM, a market of the London Stock Exchange. GW is licensed by the UK Home Office to work with a range of controlled drugs for medical research purposes.

The Group's lead programme is the development of a product portfolio of cannabinoid prescription medicines to meet patient needs in a wide range of therapeutic indications, including Sativex® Oromucosal Spray and Epidiolex® for childhood epilepsy.

GW's lead product, Sativex is now approved /recommended for approval in 24 countries.

It is indicated as a treatment for symptom improvement in patients with moderate to severe spasticity due to multiple sclerosis (MS) who have not responded adequately to other anti-spasticity medication and who demonstrate clinically significant improvement in spasticity related symptoms during an initial trial of therapy.

Sativex is also in Phase III clinical development for the treatment of cancer pain, the lead indication for the US market.

GW has now entered into five separate licensing agreements for Sativex with,

Bayer HealthCare in the UK and Canada

Almirall in Europe (excluding the UK) and Mexico

Otsuka Pharmaceutical Co. Ltd in the United States

Novartis in the Middle East (excluding Israel), Africa, and Asia (excluding China and Japan)

with Neopharm in Israel."
Cannabinoid Research:
GW occupies a world leading position in cannabinoid science and has developed an extensive international network of the most prominent scientists in the field.

In mid 2007, GW's early cannabinoid research activities were significantly expanded through the establishment of a global cannabinoid research agreement with Otsuka.

Under this collaboration, GW and Otsuka are researching novel cannabinoids as potential treatments in the fields of Central Nervous System (CNS) disorders and oncology. In addition, GW has an in-house program researching cannabinoids in the field of type 2 diabetes and related metabolic disorders.

As part of this program, GW set up in 2009 the GW Metabolic Research Laboratory at the University of Buckingham.
Under 'Partners' is listed…
Otsuka

Novartis

Admirall

Bayer

Ipsen

Neopharm
(I have to appreciate the comedic relief in that last one).
Under 'Research and Development Collaborators' are listed…
University of Aberdeen (Scotland)

Hebrew University (Israel)

Institute of Biomolecular Chemistry of the National Research Council (Italy)

Buckingham University (England)

Reading University (UK)

Complutense University (Spain)

University of Naples Federico II (Italy)

University of Insubria (Italy)
Any University research facilities in the U.S. allowed to participate?… nope.
And finally, listed under 'Financial Advisor'… NM Rothschild & Sons. Bingo!
Investor Relations


Q. Who are GW's financial advisers and brokers?

GW's financial adviser is NM Rothschild & Sons and the company's broker is Peel Hunt LLP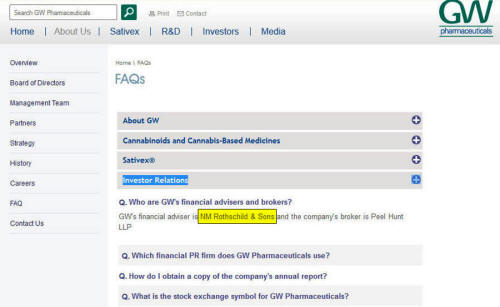 So they've gathered the R&D leading scientists and created just another Rothschild 'stable'.
The Rothschilds, and the Crown Council which they chair (the thirteen self-determined 'royal' families; Warburg, Schiff, Oppenheimer, etc.) go largely unacknowledged, even in the alternative media.
Through their control of the global issuance of money and credit, they have obfuscated cannabis research, development and distribution - just as they have squashed the potentiality of every other hopeful develop over the last hundred years while fully funding the activities that these death eaters revel in…
...etc., anything that will bring misery and derail the awakening.
Currently, GW's signature product 'Sativex' - an oral spray, is unavailable for distribution in the U.S. But even when it is, would I want to spray anything into my mouth that the Black Hand of the Rothschils' has touched?
Especially with R&D and distribution in the United States coming from a Japanese pharmaceutical company (who knows what twisted thoughts the Rothschild's have planted at Otsuka… a genetically engineered strain of cannabis called 'Hiroshima's Revenge'?)
But what about (what's left of) our Federal government; any activity there?
A Sept. 11, 2003 NY Post article Feds patented medical pot… while fighting it states…
"Patent No. 6,630,507, you see, is for cannabinoids as antioxidants and neuroprotectants. Most people would simply refer to this as medical marijuana.

…Who got that patent? The US government gave this patent to itself.

Just so you understand me, this is the same US government that has been fighting the use of marijuana as a drug. Yet its own scientists were claiming a decade ago that marijuana had been effective against a number of diseases."
Most of the low-THC strains of cannabis are below the 0.3 percent THC required for the importation of hemp - which is also illegal to grow in the United States according to Federal law.
A bipartisan bill has been introduced in Congress to allow low-THC strains to be grown in the U.S.
"The bipartisan bill, introduced on Monday by Representative Scott Perry (R-Pa.), would "exclude therapeutic hemp and cannabidiol from the definition of marihuana" under the Controlled Substances Act.

Instead of revising the way marijuana is treated under federal law, the bill instead defines plants with 0.3 percent THC or less simply as something other than "marihuana" (the plant's spelling in penal law dates back to the time of Reefer Madness.)

Regardless of the bill's semantics, it would be the first time the federal government acknowledges an accepted medical application of cannabis. The bill's passage could open the door to consideration of other marijuana reforms or wider medicinal applications of the plant."
The Prognosis at Govtrac.us: 8% chance of getting past committee / 3% chance of being enacted.
So little help on the horizon from our deliberately dumbed-down and spineless legislators cloistered in the District of Columbia that's seemingly been reduced to just another Rothschild stable.
All I wanted was just a vial of cannabis oil to treat melanoma - and had to wade through all this to see why it isn't available to me. Business as usual here on planet earth.
Yes, I could produce my own if I'm willing to wade back into the matrix and could tolerate the state registrations, licensing fees, surveillance, limitations and the specter of federally sponsored raids and potential incarceration that has been imposed on the American people.
Poop...