by Michael Salla
April 15, 2018
from Exopolitics Website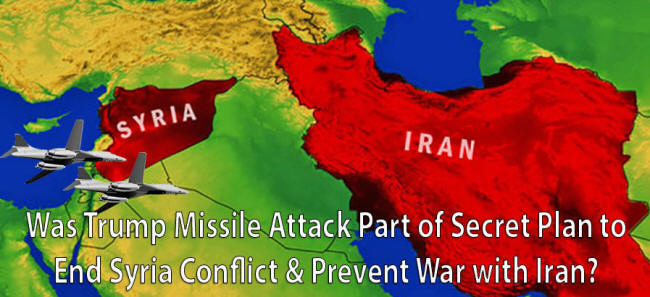 In the early morning hours of April 14, President Trump authorized an attack by a coalition of U.S., French and British military forces against Syria. The attack involved 103 cruise missiles fired upon Syrian facilities previously associated with chemical weapons productions.
These facilities were allegedly involved in a chemical weapons attack nearly a week earlier on April 8, on Douma, a suburb of Damascus.
After the limited missile strike, Trump said the attacks had been successful and declared "mission accomplished".
Just as Trump had clearly signaled to the world via Twitter that he was about to launch an attack on Syria, he was now clearly transmitting via Twitter that the attack was completed with the mission goals achieved.
Many alternative media analysts accept that the April 8 chemical weapons attack was not orchestrated by the Syrian government, because it did not have any strategic purpose for doing so given recent battle field successes.
In their view, the chemical weapons attack was a false flag event staged by Deep State actors wanting to drag the U.S. and its major allies deeper into the Syrian Civil War, as a prelude to a major attack on Iran.
So,
Was Trump's attack really a prelude to the U.S. getting drawn more deeply into the Syrian and Iran conflicts via a very transparent false flag event?

Or was Trump's real goal to achieve an entirely different strategic purpose, to bring about a speedy end to the Syrian Civil War and prevent a new war with Iran?
In finding an answer we can first take a look at what QAnon, which is a group of U.S. Military Intelligence officials leaking classified information, has to say about the missile strike.
QAnon used a coded message to predict back on April 8, the day of the Douma chemical weapons incident, that 2 B-1 bombers would be involved in an upcoming Syria missile attack, and these would launch 19 missiles: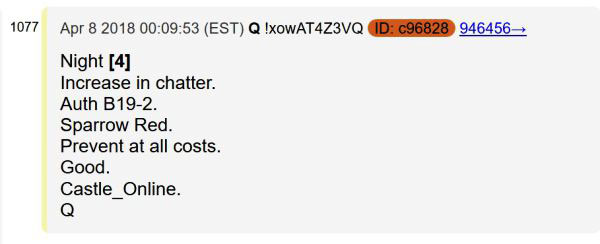 The post suggests that QAnon was aware of advance plans for the Syria attack, and the craft to be used in it.
According to another Q Anon post, one that coincided with the April 14 missile attack itself, the U.S. Coalition strike was a limited military operation that would only involve missiles, no ground force or plane overflights of Syrian territory, and that we should trust Trump:

Once again, Q Anon refers to "Sparrow Red" which is likely a reference to an older kind of guided missile, AIM-7 Sparrow, used by many world militaries including Israel and Saudi Arabia.
While the AIM-7 Sparrow is an air-to-air missile not used in the attack itself, was the Sparrow reference signaling an intent to use older missiles launched by the B-1 bombers and surface ships in the U.S. French and British coalition so that many of these missiles could be shot down in a staged event coordinated with the Russians (Sparrow Red: see update at bottom page)?
This appears to be exactly what happened if consider a statement put out by the Russian Ministry of Defense describing the results of the U.S., French and British missile strikes on Syria.
The Russians said:
As evident by the available data, 103 cruise missiles have been launched, including Tomahawk naval-based missiles as well as GBU-38 guided air bombs fired from the B-1B; the F-15 and F-16 aircraft launched air-to-surface missiles.

The Tornado airplanes of the UK RAF launched eight Scalp EG missiles. The Syrian air defence systems, which are primarily the USSR-made AD systems, have successfully countered the air and naval strikes.

In total, 71 cruise missiles have been intercepted.

The S-125, S-200, Buk, Kvadrat, and Osa Syrian AD systems were involved in repelling the attack. It proves high efficiency of the Syrian armament and professional skills of the Syrian servicemen trained by the Russian specialists.

Over the last eighteen months, Russia has completely recovered the Syrian air defence systems, and continues its development.

It is to be stressed that several years ago given the strong request by our western partners, Russia opted out of supplying the S-300 AD systems to Syria.

Taking into account the recent incident, Russia believes it possible to reconsider this issue not only regarding Syria but other countries as well.
The most telling point in the Russian statement was that almost 70% of the U.S. coalition's missiles were shot down using old Russian air defense technologies.
These shoot down figures are publicly disputed by Pentagon sources, who instead have highlighted the missiles 'success' in hitting their targets.
Chief Pentagon spokesperson, Dana White, said:
This operation was carefully orchestrated and methodically planned to minimize potential collateral damage. I can assure you we took every measure and precaution to strike only what we targeted and we successfully hit every target.
So which is a more the accurate assessment of the missiles success?
If we accept the QAnon information suggesting older missile technology was to be used, then it is likely that the Russian statement is more accurate.
Russia has said that given the strike, it now plans to move forward with upgrading the Syrian air defense system using their more modern S-300 technology.
This will significantly increase the defensive capability of the Syrian air defense system, to make it virtually impervious to the kind of limited air attack witnessed on April 14 using cruise missiles and modern aircraft.
The Russian intent to upgrade Syria's missile defenses will eventually change the strategic balance of power. Having a virtually impenetrable air defense system to limited air strikes will deny most foreign actors the ability to militarily intervene in the Syrian Civil War.
So the real loser from the missile attack may ultimately be Israel, which has launched over a hundred air attacks against Syrian forces and their main allies, Iran and Lebanon's Hezbollah, during the Syrian Civil War.
This is because Russia has now been given a suitable rationale for upgrading the Syrian air defense system with their advanced S-300 system.
This will soon make it very difficult for Israel to intervene in the Syrian Civil War, as it has previously done with virtual impunity up until February 10 when one of its jets was shot down on after an attack on an Iranian site.

This means that Iran and Hezbollah will have a greater capacity to attack the remaining militia groups fighting the Syrian regime in order to end the Civil War, and allow them to move closer to the Israeli border.
This will ultimately put pressure on Israel to reach an agreement with the Assad regime on unresolved issues with Syria.
In addition, the interception and destruction of almost 70% of the U.S. coalition's missiles shows that any state that possesses modern Russian air defenses can withstand the kind of limited missile attack witnessed in the Syrian strike.
This takes me now to what may have been the ultimate goal behind the missile strike:
to show how a similar limited strike secretly being planned against Iran would be doomed to failure...!
Again, it's worth taking a look at what QAnon has to say about the Syrian strike setting the stage for resolving the Iran issue as part of a secret plan in an April 14 post:

Iran is perceived as a major threat by Israel and Saudi Arabia.
There have been fears since 2013 that they would collaborate in a surprise military campaign against Iran, designed to drag the U.S. into the conflict, despite the 2013 Geneva Agreement reached to limit Iran's nuclear programs.
On November 17, 2013, The Sunday Times reported:
ONCE they were sworn enemies.

Now Israel's Mossad intelligence agency is working with Saudi officials on contingency plans for a possible attack on Iran if its nuclear program is not significantly curbed…

As part of the growing co-operation, Riyadh is understood already to have given the go-ahead for Israeli planes to use its airspace in the event of an attack on Iran.

Both sides are now prepared to go much further.
The problem with Israel and Saudi Arabia cooperating in a surprise attack to take out Iran's nuclear facilities is that Iran has a recently modernized air defense system, supplied by Russia, which protects its facilities.
In June 2016, Russia finally delivered its S-300 air defense system, after a 10 year delay due to U.S. requests.
In March 2018, the Iranians successfully test-fired the system as reported by a number of media outlets showing these were now operational:
Iran has successfully test-fired a sophisticated, Russian-supplied S-300 air defense system, the official IRNA news agency reported on Saturday.
The drill took place during a recent military exercise named Damvand, and was attended by senior military commanders and officials according to Tasnim.

IRNA said the test targeted various flying objects including missiles. With a range of up to 200 kilometers (125 miles) the S-300 is capable of simultaneously tracking and striking multiple targets, according to AP.

Iran state TV aired footage of the missiles launching from the back of trucks. It said the test was carried out in Iran's central desert.
As many puzzle over the real motivations between Trump's limited missile strike against Syria in response to a widely perceived false flag incident, and his declaration of "Mission Accomplished", it is very likely that the immediate goal was not to deepen U.S. military involvement.
The purpose was to help promote an end the Syrian Civil War by exposing how sophisticated Syria's air defense abilities were becoming due to Russian assistance.
This was quickly neutralizing Israel's air superiority in the region, and would pressure it to end its covert support of armed Syrian groups fighting the Assad regime.
The real strategic goal, however, was to pre-empt a surprise military strike against Iran by Israel and Saudi Arabia by revealing how effective Russia's advanced air defense systems had become.
With Iran now deploying sophisticated S-300 air defense systems around its nuclear and military facilities, it would be a futile exercise for Israel and Saudi Arabia to launch a surprise attack given their limited aviation and missile technologies.
Consequently, rather than the Syrian missile strike being evidence of Trump being co-opted by Neocons into yet another Middle East war that is part of a Deep State agenda revealed to General Wesley Clark in 2001, the real purpose seems to be part of a White House/Military Intelligence plan that is aimed at bringing a speedy resolution of the Syrian Civil War, and preventing rogue military actions against Iran...
UPDATE 4/17/18
Raytheon's AIM-7 Sparrow is an air-to-air missile so it could not have been used in the Syrian missile attack on multiple ground targets.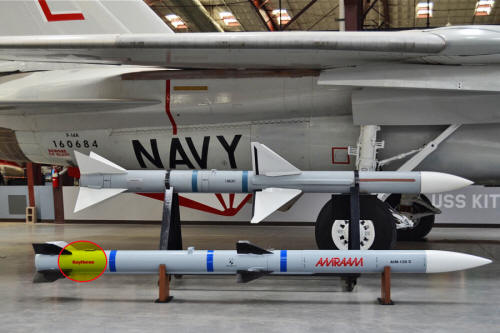 The logo of Raytheon, that built the AIM-7 Sparrow is red text, so QAnon's reference to Sparrow Red may not be a reference to Russia, but may refer to Raytheon missile technologies used in the Syrian attack.
Article updated accordingly...