by Patrick Wood
March 17, 2023
from ActivistPost Website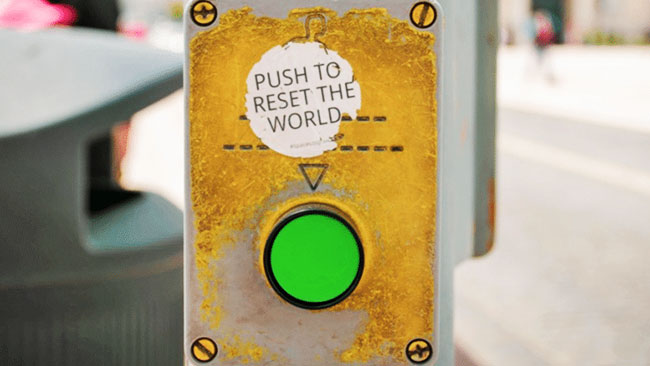 The Trilateral Commission's 50th anniversary marks the culmination of its self-proclaimed "New International Economic Order".
On March 12, the Trilateral Commission held its plenary meeting in New Delhi, India to discuss issues relating to globalization. Trilateral Commission co-founder Zbigniew Brzezinski's "Technetronic Era" has apparently officially arrived.

Amid the new-world alliances that are forming as India and China seek to normalize relations and as China just brokered a relationship between Saudi Arabia and Iran, the globalist narrative has opened a new, and possibly final, chapter.
According to NikkeiAsia, one unnamed Trilateral Commission member addressed the plenary meeting and stated,
Three decades of globalization - defined as integrated, free-market based and deflationary - has been replaced by what will be a multidecade period of globalization defined as fragmented, not-free-market-based but industrial-policy based and structurally inflationary.

This year, 2023, is 'Year One of this New Global Order'...
This reflects Brzezinski's early strategy to transform the world as he wrote in Between Two Ages - America's Role in the Technetronic Era:
The nation-state as a fundamental unit of man's organized life has ceased to be the principal creative force: International banks and multinational corporations are acting and planning in terms that are far in advance of the political concepts of the nation-state.
Welcome to the "New Global Order"...

The Trilateral Commission give The Signal to the WEF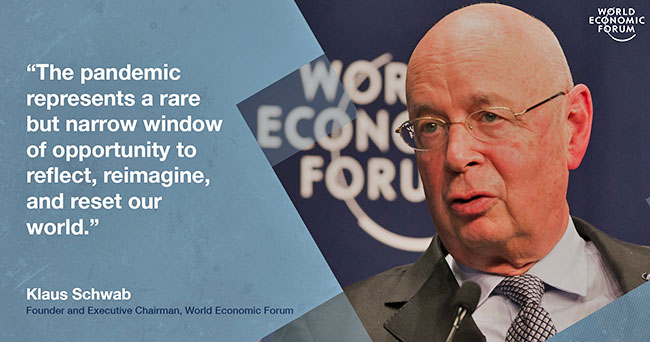 Klaus Schwab, founder of the World Economic Forum (WEF), stated in 2020,
"The 'pandemic' represents a rare but narrow window of opportunity to reflect, reimagine, and reset our world".
This followed my analysis that the so-called 'pandemic' was Technocracy's coup d'état that had been building up for over 45 years at the hands of the Trilateral Commission.
In fact, I have argued consistently that the Commission's original "New International Economic Order" was nothing more than Technocracy warmed over from the 1930s.
It was Brzezinski's Technetronic Era.

It was the United Nations' Sustainable Development.

It was Biden's Green New Deal,
...all one and the same and all strategized by members of the Trilateral Commission starting in 1973.

The WEF is thoroughly intertwined with the United Nations and vigorously promotes its Sustainable Development Goals.
The WEF website states,
The COVID-19 'pandemic' has presented its fair share of challenges but has also offered opportunities.

The World Economic Forum has assembled physical events for over 50 years, but we now have a unique opportunity to take the experience online.
As part of the Sustainable Development Impact Summit 2020, the World Economic Forum is,
experimenting with a 3D environment that allows spacial exploration of the Sustainable Development Goals, SDG-specific content discovery, and experiencing the ambience of a physical event from your computer.
Watch the video below for a sneak peek of our exploration:


When Schwab says that the WEF is "reimagining the future", he is flatly misleading.
The future was already re-imagined by early members of the Trilateral Commission such as,
...all founding members.

On June 3, 2020, Schwab wrote on the WEF blog,
To achieve a better outcome, the world must act jointly and swiftly to revamp all aspects of our societies and economies, from education to social contracts and working conditions.

Every country, from the United States to China, must participate, and every industry, from oil and gas to tech, must be transformed. In short, we need a "Great Reset" of capitalism.
Now the Trilateral Commission, acting as quarterback, has relayed the call to the WEF that,
"This year, 2023, is Year One of this New Global Order."
In other words, pull out all the stops. The Great Reset has arrived. Execute the battle plan to terminate capitalism and free-market economics.

What does this mean for 2023?

As I have written, we are already experiencing a "polycrisis of doom" where multiple crises are descending upon us at the same time.
Any one of these pending crisis could be seen as a "scorched-earth" policy where total destruction is possible down the the ground level.
If all four are unleashed at the same time, it would be the equivalent of atomic warfare resulting in a literal "dark winter"...
Such a collapsed world would then be ripe for total capture and rebuilding into Technocracy's dystopia.

Don't shrug your shoulders

It is unfortunate that hardly anyone has given any credence to the Trilateral Commission over the years.
I will say pointedly that the first person to bust them was the late scholar and professor Antony C. Sutton, with whom I co-authored Trilaterals Over Washington, Volumes I and II between 1978-1981.
Few paid attention back then, just as few pay attention today.

We were mercilessly censored back then, just as I am censored today.
Nevertheless, our work has stood the test of time and now the endgame is at hand.
Trilateral Commission calls...
2023 'Year One' of New World Order
by Ken Moriyasu and Shigesaburo Okumura
March 14, 2023
from Asia.Nikkei Website


KEN MORIYASU,
Nikkei Asia diplomatic correspondent,
and
SHIGESABURO OKUMURA,
Nikkei Asia editor-in-chief.
the North American chair of the Trilateral Commission,
speaks in New Delhi on March 12.
O'Sullivan was deputy national security adviser
for Iraq and Afghanistan under President George W. Bush.
(Photo by Patrick Ishiyama)



Members discuss
China, middle powers and ChatGPT
at meeting in India...

NEW DELHI

As retired foreign ministers, ambassadors, CEOs, bankers and academics gathered at the secretive Trilateral Commission's first global plenary meeting in India, perhaps the most influential individual sat quietly off to the side, listening.

James Baker, director of the Pentagon's Office of Net Assessment, was not even on the list of participants at the Taj Palace Hotel in New Delhi.

But his takeaways from the meeting could find their way into policies that shape the world.

Baker is the successor to legendary defense strategist Andrew Marshall, who headed the office for 42 years.

He is responsible for providing the Secretary of Defense with an assessment of U.S. military capabilities relative to other actors 20 to 30 years down the road.

One particular speech may have caught Baker's attention, for it captured the essence of the three-day discussion, held from Friday through Sunday.

"The Biden administration is trying to convince the world that there is this titanic struggle between autocracies and democracies.

I am skeptical about that," a speaker said.

Instead,

the world is fragmented, with countries - including the U.S. - looking out for their self-interests, the speaker added...

The Trilateral Commission is a nongovernmental organization that seeks to deepen understanding between the U.S., Europe and Asia.


Trilateral Commission members

listen to Indian Minister of External Affairs

Subrahmanyam Jaishankar

in New Delhi on March 12.

(Photo by Patrick Ishiyama)



The speaker, who cannot be identified according to commission rules, went on:

"Three decades of globalization - defined as integrated, free-market based and deflationary - has been replaced by what will be a multidecade period of globalization defined as fragmented, not-free-market-based but industrial-policy based and structurally inflationary.

This year, 2023, is Year One of this New Global Order."

At the core of this shift is the U.S.

Instead of committing to a neoliberal, free-market economy, the U.S. government is driving the economy and key industries toward a set of objectives, such as domestic equity at home and competition with China, the speaker said.

In such a world, middle powers like India, Saudi Arabia and Turkey will carve their own paths, weighing the economic, strategic and defense interests, the speaker said.

Ironically, as the Trilateral Commission convened, Saudi Arabia and Iran agreed to normalize relations, shattering Israel's hopes for isolating Tehran.

The deal was brokered by China, with the U.S. having no role in the handshake...

Wang Yi, China's most senior diplomat, center,

presides over a closed meeting between Iran,

led by Ali Shamkhani, the secretary of

Iran's Supreme National Security Council, at right,

and Saudi Arabia, led by Saudi national security adviser

Musaad bin Mohammed al-Aiban, at left,

in Beijing on March 11.(Xinhua via AP)



Created by 'philanthropist' David Rockefeller in 1973, the commission sought to bring the rising economy of Japan firmly into the West.

Today, the commission has expanded to include members from South Korea, India and Southeast Asia...

Fresh from overtaking China as the world's most populous country and with a new "appetite for the world," in the words of one participant, India was a major focus of discussions.

Representatives from the country engaged in a lively debate with their Chinese counterparts.

When a former Chinese diplomat suggested that the two nations "meet halfway" over their Himalayan border problem and find a way to settle differences, an Indian government official categorically rejected how the Chinese were framing the issue.

"The Chinese side must understand, you cannot undermine peace and tranquility and then say 'let the rest of the relationship be normal'," the Indian official said.

"You can't have violence on the boundary and business in the hinterland.

It doesn't work..."

Chinese Foreign Minister Qin Gang, left,

speaks with his Indian counterpart Subrahmanyam Jaishankar

during their meeting on the sidelines of the

G-20 foreign ministers' meeting in New Delhi, India on March 2.

(India's Ministry of External Affairs handout via Reuters)



But commission members expressed hope that China would play a part in ending the Ukraine 'war'...

"Whether Russia will stop the war depends on the role of China.

If China decides to help Russia [evade] sanctions, if China decides to provide Russia with arms, this 'war' can go on for very long," one European analyst said.

Members also worried about how the 'war' has disrupted efforts to reach net-zero emissions.

"The new conflict that is perceived in many constituencies is between energy security on one hand and energy transformation on the other, following Ukraine," a member said.

"At least for the short term, some of these priorities seemed to have shifted.

We need to now reorder these priorities in a way that energy transformation happens and becomes the main driver of where investments need to go."

Another hot topic was artificial intelligence (AI).

"A poll last year found that 49% of AI researchers have said that AI poses an existential threat to humanity, almost to the level of a nuclear type of disaster in the scale of humanity," said a member.

Many in the room called for,

a global regulatory scheme to govern AI...

Still, participants were generally positive about the wildly popular ChatGPT and later jokingly asked the bot to write a poem about the Trilateral Commission.

Following is one example:

"In secret meetings, you plan and conspire,

To create a new order, of which you aspire.

Your goals are unclear, but some see the end,

As a world government, with you as its friend."